US President George W. Bush, seeking a peace agreement between Israel and the Palestinians before he leaves office, will visit the Middle East in early January, the White House said late Tuesday.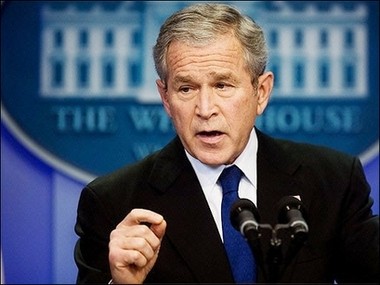 US President George W. Bush (Photo: AFP)
"The president will go to the Middle East region in early January. Details to come," said US National Security Council spokesman Gordon Johndroe, who declined to confirm Israeli media reports that Bush would go to Israel.

The announcement came one week after Bush announced at a conference in Annapolis, Maryland, that Israelis and Palestinians had agreed to restart negotiations with the goal of creating a Palestinian state by late 2008.

The daily Israeli newspaper Yediot Aharonot cited sources in Israeli Prime Minister Ehud Olmert's office as saying that Bush would arrive in Israel on January 9, but that it was unclear whether the US president would meet with Palestinian Prime Minister Mahmud Abbas or visit nearby countries.

The daily said that the visit was arranged during Olmert's visits to the White House last week around the Annapolis conference.

If Bush were to go to Israel, it would be his first visit there as president, and his first since traveling there as Texas governor in 1998. Bush leaves office in January 2009.

The last visit to Israel by a sitting US president was by his predecessor, Bill Clinton, in December 1998.

Bush has drawn fire over the past seven years for keeping the Middle East peace process at arms length, amid accusations that he has not been personally involved enough in helping the nearly six-decade conflict.

But the US president counters that the conditions now are right for resuming negotiations, pointing to heightened Arab interest as well as Israeli and Palestinian leaders whom he says are committed to making peace.


And on Tuesday, Israel said it had invited bids to build more than 300 new housing units in annexed east Jerusalem, the first settlement expansion since the revival of peace talks with the Palestinians.

The Palestinians slammed the move as an attempt to undermine the renewed peace drive which was officially launched after a seven-year hiatus at Annapolis.

The announcement of Bush's visit came after a week of potentially critical developments in US relations with the troubled region.

On Monday, the US intelligence community said in a blockbuster report that Iran had halted its nuclear weapons program in 2003 and that it was unclear whether it sought an atomic arsenal today -- a move seen as undermining the US push for a new round of sanctions on the Islamic republic

One week earlier, Bush and Iraqi Prime Minister Nuri al-Maliki said they hoped to agree by July 31, 2008, on the terms for what could be an open-ended US military presence in the war-torn country.