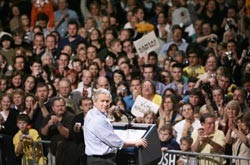 US President George W. Bush speaks during a campaign rally at the Kansas Expo Center, Nov. 5, 2006 in Topeka, Kansas (AFP Photo)
President George W. Bush's Republican party has cut the Democratic opposition's lead days before the bitterly fought election to control Congress, according to two national polls released Sunday.
The ABC News/Washington Post and Pew Research Center surveys showed that Democrats no longer held a double-digit lead over Republicans, while Iraq was still the top campaign issue and Bush's approval rating remained low.
The ABC News/Washington Post survey of likely voters gave the opposition a 51-45 percent edge nationally over the Republicans, who control both chambers of Congress, down from a double-digit lead in the previous poll.
A Pew Research Center poll found that Democrats had a 47-43 percent lead over Republicans for the House of Representatives among likely voters, down from 50-39 percent just two weeks ago.
The Democrats need to post a net gain of 15 House seats and six Senate seats in Tuesday's election to capture Congress. Control of the Senate could be determined in hotly contested races in Missouri, Virginia and Montana.
All 435 House seats and 33 of the 100 Senate seats are up for grabs.
Pew attributed the majority party's gains to an apparent surge in enthusiasm and engagement among Republicans days before the election, a narrowing of Democrats' lead among independent voters from 18-points in October to 11-points now, and an improvement in Bush's standing.
The US leader's job approval among registered voters has risen from 37 percent in early October to 41 percent in the new survey, Pew said. But a majority of voters, 53 percent, still disapprove of Bush's performance.
But the ABC News/Post poll found that Bush's 40 percent approval rating was the lowest for a president heading into a midterm election since Harry Truman in 1950, when his Democratic party lost 29 seats in Congress.
Then President Ronald Reagan's approval rating was 42 percent in 1982, when the Republican icon's party lost 26 seats.
The two new polls indicate that some voters consider their ballots on Tuesday a vote against Bush.
Among registered voters, 31 percent say they are voting to show opposition to Bush, compared to 17 percent saying it is a vote of support, according to the ABC News/Post poll. Half said Bush is not a factor.
The situation in Iraq remains the top issue of the midterm election, with 48 percent of voters citing it as the most or second most important issue in their vote, according to Pew.
The polls were released prior to news of the conviction of former Iraqi president Saddam Hussein for crimes against humanity. Saddam was sentenced to death by hanging.
A Newsweek survey out Saturday had better news for the Democrats, giving them a 16-point edge.
The weekly magazine's poll found that 54 percent of likely voters nationally would cast their ballots for the Democratic candidates in their districts, versus 38 percent who preferred the Republicans.
That poll also found the Iraq war was the most important issue for 32 percent of registered voters when choosing a House or Senate candidate.
Bush's approval rating was also lower in the Newsweek poll, at 35 percent, compared with 37 percent in the magazine's October 26-27 poll.
The ABC News poll was taken by telephone November 1-4, among 1,205 adults, including 1,037 self-identified registered voters. The Pew survey was conducted during the same dates among 2,369 registered voters