The European Aviation Safety Agency has ordered airlines to carry out new inspections of the Rolls-Royce engines on the Airbus A380 superjumbo after analysis of one which blew up on a Qantas flight.
The Australian carrier was forced to ground its entire fleet of A380s after the mid-air blast last week which forced the plane to make an emergency landing in Singapore. No one was injured in the incident.
Preliminary analysis showed that an oil fire may have caused the "uncontained failure" of the Rolls-Royce Trent 900 engine, the EASA said Thursday on its website.
The agency said it therefore "requires repetitive inspections" of certain parts of the engine "in order to detect any abnormal oil leakage, and if any discrepancy is found, to prohibit further engine operation."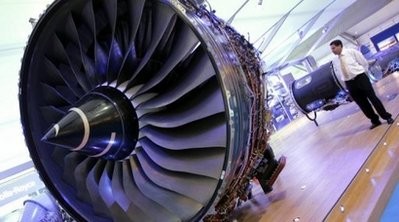 File photo shows a visitor looking at a Rolls Royce Trent 900 jet engine at the Farnborough Air Show
The agency's instructions were considered as "interim" and further "mandatory" actions might be considered after results of the ongoing investigation are completed.
The Qantas incident prompted serious safety worries over the world's biggest passenger jet.
The Australian carrier revamped its flight schedule to exclude the six flagship A380s, potentially for "weeks", after the blow-out which also led to Singapore Airlines putting three of its superjumbos out of action.
A spokesman told AFP that Qantas's A380s, which service long-haul routes connecting Australian cities with Los Angeles and London, would not be used for at least a few days.
Qantas is among a group of carriers conducting urgent safety checks of the A380s' Rolls-Royce Trent 900 engines as investigators work to determine what caused last Thursday's blow-out over the Indonesian island of Batam.