PHNOM PENH, April 29, 2011 (AFP) - Cambodia said Friday it had asked the World Court to clarify a 1962 ruling about an ancient temple on its disputed border with Thailand as clashes between the neighbours entered an eighth day.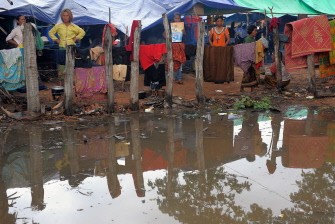 AFP - Cambodian villagers who live near the Thai-Cambodia border and were evacuated after cross-border fighting take refuge at Samrong in Oddar Meanchey province on April 29, 2011.
The request "for the interpretation of the Court's judgment... concerning the temple of Preah Vihear" was prompted by "Thailand's repeated armed aggression to exert its claims to Cambodian territory", the foreign ministry said.
A clarification by the court was of "the utmost necessity... in order to peacefully and definitely settle the boundary problem between the two countries in the area", it added.
Thai Prime Minister Abhisit Vejjajiva said Thailand had hired legal advisors on Friday.
"We will go ahead and fight the case," he said.
Hopes for an end to the bloodiest border conflict between the neighbours in decades appeared to have been dashed after fresh clashes broke out hours after a ceasefire deal was struck on Thursday.
The current clashes are centred around two temple complexes around 150 kilometres (90 miles) west of Preah Vihear, although there were some skirmishes at the ancient site on Tuesday.
Both countries have blamed each other for sparking the violence.
The International Court of Justice in The Hague ruled more than four decades ago that the 11th-century Preah Vihear belonged to Cambodia, but both countries claim ownership of a 4.6-square-kilometre (1.8-square-mile) surrounding area.
"We especially want clarification about the vicinity around the temple," Cambodian foreign ministry spokesman Koy Kuong told AFP. "Thailand is using unilateral maps to claim our territory."
The structure -- the most celebrated example of Khmer architecture outside Cambodia's Angkor -- has been the focus of strained relations between the neighbours since it was granted UN World Heritage status in 2008, sparking a series of deadly clashes.