PHNOM PENH, Nov 4, 2010 (AFP) - China will inject 1.6 billion dollars into Cambodian infrastructure over five years, officials said Thursday, just days after the US urged the country not to become too dependent on the Asian giant.
"Within the next five years, Cambodia and China will have 23 co-operation projects," government spokesman Khieu Kanharith told reporters after a meeting between China's top legislator Wu Bangguo and the Cambodian Prime Minister, Hun Sen.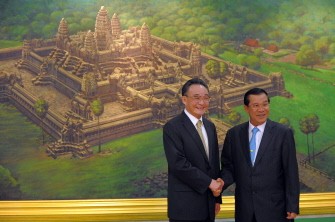 Wu Bangguo (L) shakes hand with Cambodian Prime Minister Hun Sen (R) during a meeting at the Council of Ministers in Phnom Penh on November 4, 2010. AFP
Hydropower dams, mining projects, bridges and railway links would be among the initiatives funded by China between 2010 and 2015, he added.
At their meeting in Phnom Pehn, Wu and Hun Sen witnessed the signing of 16 deals, including a loan agreement arranged by the Bank of China that will see Cambodia's largest mobile operator CamGSM borrow over 590 million dollars.
China also plans to help Cambodia build a new railway to neighbouring Vietnam, providing one of the last missing links for a pan-Asian network that would connect Singapore with China's Kunming by train, according to the spokesman.
He said Wu also promised to boost Chinese direct investment in the kingdom, which so far this year stands at 610 million dollars.
Wu's visit to Cambodia comes just days after US Secretary of State Hillary Clinton made a high-profile appearance in the country and urged Cambodians not to become "too dependent" on China.
Khieu Kanharith said Wu hailed the "fast growing ties" between the two countries and told Hun Sen that "China does not want to seek power and become the owner of the region".