PHNOM PENH, Aug 16, 2011 (AFP) - Cambodia has moved to resolve a high-profile dispute about a mass eviction from a lakeside area in the capital after the World Bank froze lending to the impoverished nation over the row.
In a letter seen by AFP Tuesday, Prime Minister Hun Sen said people refusing to leave the Boeung Kak lake area to make way for a private development could continue living there on a designated 12.44 hectares (30.7 acres) plot of land.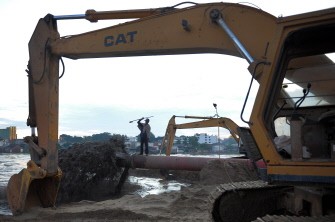 AFP - A Cambodian worker (C) stands on a pipe pumping sand into the Boeung Kak lake in central Phnom Penh on August 16, 2011
The offer, which could save around one thousand families from eviction, came just days after the World Bank announced it would not provide new loans to Cambodia until the government found a solution for the lake residents.
The rest of the roughly 126-hectare site would remain in the hands of a Chinese-Cambodian company headed by a ruling party politician that has been filling in the lake to build high-rise apartments and shops.
The compromise comes too late for the more than 3,000 families who have left the area already, often after seeing their homes flooded with mud and accepting what little compensation was on offer, according to housing rights groups.
But the news was welcomed by the remaining residents, who have held frequent protests in recent months demanding on-site housing or better compensation.
"I am overjoyed with the order. I feel both excited and nervous because our previous protests never succeeded," said 43-year-old Doung Kea, who has lived on the shores of the lake for more than a decade.
Sia Phearum, secretariat director of the Housing Rights Task Force, an independent pressure group, said Hun Sen's offer "is a smart, clear resolution to the Boeung Kak lake case".
But he warned that details about new housing on the site still needed to be ironed out in further talks between city officials, residents and the project developer, Shukaku Inc.
Phearum credited the residents for standing their ground in the dispute though he said pressure from the World Bank had also "played a part".
The Washington-based multilateral lender greeted the land offer with cautious optimism.
"This appears to be a positive development and we hope that it will lead to a good outcome for the residents of Boeung Kak lake," said country director Annette Dixon.
The bank admitted in March it had failed to protect the lake dwellers while working on a land titling project in the country a few years ago, and has repeatedly offered to help the government resolve the issue.