PHNOM PENH, Nov 11, 2009 (AFP) - Cambodia on Wednesday rejected Thailand's request to extradite Thaksin Shinawatra, inflaming tensions over Phnom Penh's appointment of the fugitive former Thai premier as an economic adviser.
Billionaire Thaksin, who was toppled in a bloodless coup in 2006 and lives abroad to avoid a jail term for corruption, arrived in Cambodia on Tuesday and received a warm welcome from Cambodian Prime Minister Hun Sen.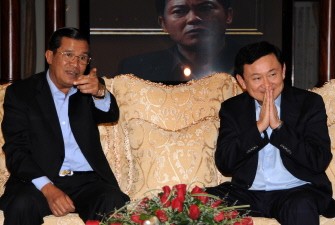 In this handout photo provided by the Prime Minister office, former Thai Prime Minister Thaksin Shinawatra (R) sits with Cambodian Prime Minister Hun Sen (L) at a house that Hun Sen prepared for Thaksin in Phnom Penh on November 10, 2009 (AFP)
Thai diplomats gave extradition papers to officials at Cambodia's foreign affairs ministry early Wednesday but were then handed back a note from Phnom Penh denying their request, an AFP reporter saw.
"Our diplomatic note answering them is nothing beyond rejecting the extradition request," Cambodian Foreign Minister Hor Namhong told AFP shortly before the exchange of letters.
Cambodia had repeatedly vowed to refuse any request from its larger neighbour for the extradition of Thaksin, saying that the charges levelled against him in Thailand were politically motivated.
"Thaksin's conviction is caused by the coup in September 2006, when he was the prime minister of Thailand whom Thai people voted in with an overwhelming majority in accordance with democracy," Hor Namhong said.
Tensions are already running high between the two countries following a series of clashes over a temple on their border and the row threatens to mar a weekend summit of Southeast Asian leaders with US President Barack Obama.
In Bangkok, Thailand's foreign ministry said it was waiting for official confirmation from the embassy in Phnom Penh that Cambodia had denied its request and "will consider the next measures to take".
Thailand and Cambodia recalled their ambassadors from each other's countries last week after Thaksin's appointment, and this week the Thai cabinet agreed to cancel an oil and gas exploration deal with Cambodia signed under Thaksin.
Thai Prime Minister Abhisit Vejjajiva has threatened to tear up the extradition treaty with Cambodia if it refuses to send Thaksin home to face justice.
Thaksin is due to give a speech to 300 Cambodian economics experts on Thursday. Cambodian officials have said he will stay in the country for two or three days but is not intending to live there.
In a posting on micro-messaging website Twitter, Thaksin said that on Wednesday he would "discuss with Hun Sen about Cambodia's problems and its relations with Thailand, to improve understanding and find mutual ways to benefit our two countries."
Twice-elected Thaksin fled Thailand in August 2008, a month before a court sentenced him to two years in jail in a conflict of interest case. He had returned to Thailand just months earlier for the first time since the coup.
But he has retained huge influence in Thai politics by stirring up protests against the current Thai government, and analysts say that in his close friend Hun Sen he had found a new way of pushing his campaign for a return to power.
Thailand's government upped the pressure on Thaksin this week by accusing him of offending the revered monarchy after he was quoted by the website of British newspaper The Times as calling for reform of royal institutions.
Defaming the monarchy, led by 81-year-old King Bhumibol Adulyadej, is a crime punishable by up to 15 years in jail in Thailand. The king has been in hospital since September with a lung and chest infection.
Cambodian state television late Tuesday showed Thaksin and Hun Sen embracing, reporting that the Cambodian leader pronounced him an "eternal friend."
Thaksin also planned to visit Cambodia's famed Angkor Wat temple during his trip, television said.
Cambodia and Thailand have fought several deadly skirmishes over another ancient monument, the 11th-century Preah Vihear temple, since it was granted UNESCO World Heritage Status in July 2008.