Cambodia has accused Thailand of "deceitful fabrication" after Thai police arrested three men on suspicion of spying near the neighbours' disputed border.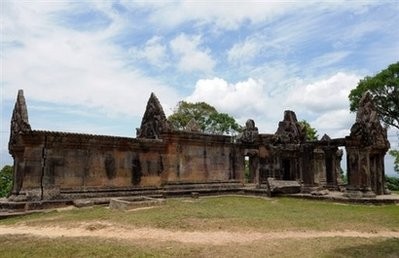 The Preah Vihear temple, on the border between Cambodia and Thailand.
"The Royal Government of Cambodia wishes to assert that the above fabrication is only a pretext to justify future aggression against Cambodia," said a foreign ministry statement released on Friday.
Thailand and Cambodia are locked in a bitter dispute over their shared border that has seen 28 people killed in two outbreaks of fierce fighting this year, and the row has since moved to the United Nations' highest court.
On Friday Thai Prime Minister Abhisit Vejjajiva said the alleged spying activities were unacceptable and accused Phnom Penh of "violating Thai territory".
One Thai, one Cambodian and a Vietnamese man were picked up in Thailand's northeastern Si Sa Ket province on Tuesday evening carrying maps with military facilities marked on them, according to Thai police.
The suspects have denied they were spying in the area, the officer who made the arrest told AFP.
Cambodia said it "categorically rejects this deceitful fabrication by the Thai authorities and prime minister, intending to mislead the public and malign Cambodia", adding it had no need to spy.
Last month the country launched a legal bid at the International Court of Justice (ICJ) in the Hague seeking to force Thailand to pull troops from a disputed strip of land near the 900-year-old Preah Vihear temple.
The court ruled in 1962 that the temple itself belonged to Cambodia but both Phnom Penh and Bangkok claim ownership of a 4.6-square-kilometre (1.8-square-mile) patch of nearby territory.
In April Cambodia asked the ICJ to clarify its initial ruling.