PHNOM PENH, Aug 18, 2011 (AFP) - More than one hundred villagers dressed as the forest people from the hit film "Avatar" protested in the Cambodian capital Thursday against the destruction of the country's Prey Lang forest.
With their faces painted blue and green and donning hats made of leaves, the demonstrators called for an end to the exploitation and deforestation of the largest lowland evergreen forest remaining in Southeast Asia.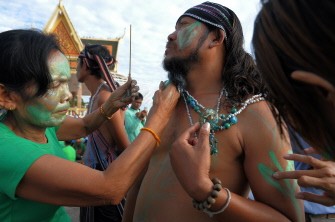 AFP - A Cambodian villager paints the body of another to resemble the forest people during a rally against the destruction of the Prey Lang forest in front of the Royal Palace in Phnom Penh on August 18, 2011
Joined by monks and environmental activists, villagers from the forest gathered outside Phnom Penh's royal palace for a religious ceremony before spreading out across the city to distribute leaflets about Prey Lang.
They say the forest, which is a source of livelihood for some 200,000 mainly indigenous people, is under threat from illegal logging and a spate of concessions granted for rubber plantations and mineral exploitation.
"I come here to ask for help for my forest," said demonstrator Heap Khy, a 49-year-old indigenous Kuy woman, her face decorated with green paint.
Several dozen protesters were briefly detained by police and told to stop handing out flyers at busy crossings but they were released without charge, local rights groups said.
The demonstrators have likened their plight to that of the forest people in the blockbuster film "Avatar" who are forced to wage a bloody fight to protect their home from miners.
Prey Lang covers about 3,600 square kilometres (1,400 square miles) in northern Cambodia. It is home to dozens of rare plant species and endangered animals including sun bears, tigers and Asian elephants.