NATO leaders agreed to stretch an anti-missile shield across Europe and deploy forces to protect the West from terror and nuclear threats. The big question now is: How on Earth to pay for it?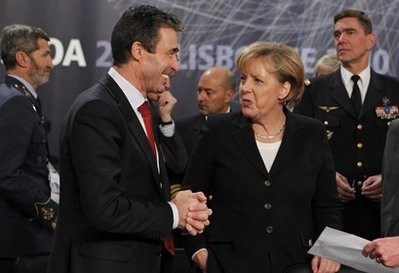 German Chancellor Angela Merkel talks with NATO Secretary General Anders Fogh Rasmussen prior to a NATO Russia Council meeting at a NATO summit in Lisbon on Saturday Nov. 20, 2010.
At a two-day summit in Lisbon, heart of one of Europe's most fragile, heavily indebted economies, President Barack Obama and his military allies set out a "strategic concept" for the next decade:
They vowed to maintain conventional, nuclear and missile defence forces, and to set up a phalanx of anti-missile batteries protecting the continent, hopefully linking up with Russia's defence network.
"You can have whatever vision you want, but if you don't have the resources it is just pointless," said Frederick Kempe, chief executive of the Washington-based Atlantic Council think tank.
Total defence spending in Europe fell in real terms to 218 billion euros (299 billion dollars) in 2009 from from 251 billion euros in 2001, according to the Centre for International and Strategic Studies.
By contrast, the US Department of Defence has requested 708 billion dollars (518 billion euros) in its topline budget for the next financial year, up from 316 billion dollars in 2001, according to Pentagon papers.
"Ten years ago if you look at the combined defence budgets of all the NATO countries the US was roughly 50 percent of the combined defence budget. It is now 75 percent," Kempe said.
The growing gap between US and European financial commitment to defence presented two dangers, he said.
"First of all: technology. As the US gets better and better military technology and its partners fall behind it becomes more difficult to work together," Kempe said.
"And second: resentment. The United States will basically start saying: Why are we footing the bill for all this? And that is not a healthy alliance."
As European governments scramble to cut costs, analysts fear they may also be cutting essential capability.
"In practice there is a turning point when reductions in quantity effect quality," said Joseph Henrotin, researcher at the Paris-based international risk analysis group CAPRI.
"The European armies are now cutting numbers."
"The role of the US as the backbone of NATO has been reinforced while the European flesh has been trimmed."
In Britain, for example, Prime Minister David Cameron announced in October that by 2015, army numbers would be cut by 7,000 to 95,500; the navy would fall 5,000 to 30,000 and the Royal Air Force would decrease by 5,000 to 33,000.
As part of eight percent cuts to the Ministry of Defence's budget, the flagship HMS Ark Royal aircraft carrier was scrapped with immediate effect along with Britain's fleet of Harrier jets.
As Europe scrabbles for savings to try to trim bloated deficits, it can avoid cutting to the bone of the defence network if nations align their strategies better, Kempe said.
"Europe has got to work better together to make more out of its combined defence budget. There is too much redundancy and too much waste," the analyst said.
"Also, the reform part of what NATO decided is crucial."
NATO leaders here cut the number of agencies dealing with everything from logistics to research from 14 to three, reduce military command centres from 11 to six or seven, and slash the bureaucratic commissions by three-quarters, saving tens of millions of dollars.