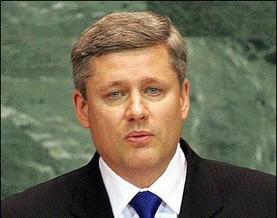 Canada's Prime Minister Stephen Harper, seen here in September 2006
Canada and its 20 APEC trading partners are scrutinizing a possible free-trade zone that would stretch across the vast Pacific Ocean, in lieu of further WTO talks, a senior official said.
"There's a really interesting debate going on about it since the suspension of the Doha Round (of World Trade Organization talks)," the official, who asked to remain anonymous, said during an APEC briefing.
Prime Minister Stephen Harper will travel to Ha Noi, Viet Nam, next week for a summit of Asia-Pacific Economic Cooperation leaders. The trading bloc now accounts for 47 percent of world trade.
"We'd like to see a strong result of the Doha Round but that doesn't mean that we're going to sit back while it's in suspension," the official said.
"It's not a new idea, but in the context of global trade negotiations, it's been getting a little more oxygen," he added.
The Doha talks collapsed in July because of disputes over agricultural subsidies and market barriers.
Prime Minister Harper has since proposed greater trade ties with Asia during trips to London and New York.
The United States has also pressed APEC members to consider a Pacific Rim free-trade zone -- an idea conceived by Canadian Pierre Lortie, a member of APEC's Business Advisory Council, the Canadian official said.
"There are different views with regard to it, but many like-minded economies like ourselves want to look at all options with regards to trade liberalization," he said.
Sandra Buckler, a spokeswoman for Harper, added: "We're going to look at it, do some feasibility studies."
Canada will also push for better rail and mass transit security in Asia at the APEC talks to try to avoid bombings like in London, Madrid and Mumbai, amid growing integration of Asian economies, another senior official.
"It's an area that has received less attention compared to air and sea security," he said.
The leaders' summit will also touch on counter-terrorism, energy security, avian and pandemic influenza prevention, HIV/AIDS prevention, and health information technology sharing. Canada is chair of APEC's health task force.
Discussions about streamlining trade regulations, reducing customs costs and procedures, and making transportation between trading partners more efficient are likely too, officials said.