Police in Cancun found 12 decomposing bodies in four caverns and were searching for more cadavers in violence blamed on drug gangs in the popular resort city, officials said Friday.
Earlier this month, police discovered six other bodies, three of them cut open and their hearts removed, in a similar cavern near the Mexican resort. Three of the bodies had the letter "Z" carved on their abdomens — a possible reference to the Zeta drug gang.
Police say detained gunmen have led them to all the clandestine graves — dried up sinkhole caves, known as cenotes.
Quintana Roo state Attorney General Francisco Alor said Friday that nine alleged hit men detained three days earlier led police to the 12 bodies.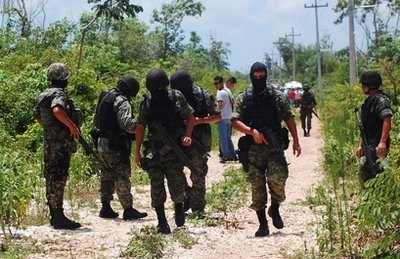 Mexican Army soldiers secure a dirt road after bodies were found nearby in several sinkholes in the resort city of Cancun, Mexico Friday June 18, 2010
Alor said three of the sinkholes are in an area covered with scrub vegetation near a residential area and the fourth on the outskirts of Cancun along a highway leading to Merida. None of the bodies have been identified.
Quintana Roo state, where Cancun is located, is a transshipment point for cocaine being smuggled from Colombia to the United States.
In 2009, prosecutors arrested Cancun's police chief, Francisco Velasco, to investigate whether he protected the Zetas drug gang. A former governor of the state was sentenced to 36 years for money laundering and helping a cartel smuggle narcotics.
More than 22,700 people have died nationwide in drug violence since late 2006, when President Felipe Calderon sent soldiers and federal police to battle the cartels.
Cartel hit men have been know to use mass dumping sites to dispose of their victims. In late May, police in the colonial tourist town of Taxco discovered 55 bodies in an abandoned silver mine.
Meanwhile, Mexican soldiers seized more than $1 million in cash from a house in a northern state that is the home base of the country's most powerful cartel, authorities said Friday.
Soldiers acting on an anonymous tip raided three houses Thursday in Culiacan, the capital of Sinaloa, the Defense Department said in a statement.
They found $1 million in cash, four guns and $80 in fake cash in the first house, the department said. In a second, they discovered $28,400, cocaine, a gun, expensive watches and other jewelry. Drugs were found in the third house.
The department did not say what cartel might have owned the money. There were no arrests.
Sinaloa state is a stronghold of the cartel with the same name, led by kingpin Joaquin "El Chapo" Guzman.
In the northern border city of Ciudad Juarez, two 15-year-old girls were among 15 people killed in a 24-hour period, said Arturo Sandoval, a spokesman for the Chihuahua state Attorney General's Office.
The girls were riding in a car with three men Thursday night when assailants opened fire. The girls were killed inside the car, while the men tried to flee and were shot dead on the street, Sandoval said.
Police had no immediate suspects.
Ciudad Juarez, across from El Paso, Texas, is one of the deadliest cities in the world because of a turf war between the Sinaloa and Juarez cartels.