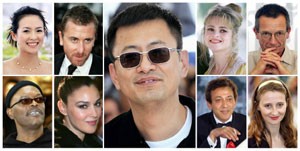 This combo shows eight jury members of the 59th Cannes Film Festival, scheduled May 17- 28 May 2006
US director Ron Howard's 125-million-dollar screen version of Dan Brown's controversial bestseller will ensure the annual orgy of glitz and glamour in the French Riviera resort gets off to an even more frenzied start than usual.
Stars Tom Hanks and Audrey Tautou and the rest of the cast are to arrive in Cannes by train from London for Wednesday's opening, evoking more gentile, bygone days when tourists used to chug down from Paris on the Blue Train.
A glittering bevy of other A-list stars such as Bruce Willis, Halle Berry, Penelope Cruz, Samuel L. Jackson and Monica Bellucci will be jetting into the once-small fishing village now turned millionaires' playground.
The screening of the third installment in the "X-Men" trilogy -- "X-Men: The Last Stand" -- will also keep movie fans glued to the red-carpet events in the resort during the May 17-28 festival.
The real competition starts on Thursday with 20 films from 13 countries officially competing for this year's coveted Palme d'Or to be awarded by a nine-strong jury headed by the Chinese director Wong Kar-Wai.
Artistic director Thierry Fremaux said the 2006 competition could be seen as a "renewal" while remaining faithful to the festival's main aims of "highlighting auteur cinema, (and) the search for singular voices in different cultures."
Established directors such as Spain's Pedro Almodovar will be competing with his new film, "Volver", alongside Britain's Ken Loach with "The Wind That Shakes The Barley," and Italy's Nanni Moretti with "The Cayman".
But the 2006 Cannes Film Festival will also showcase some of the movie world's fastest-rising talents, such as "Lost in Translation" US director Sofia Coppola competing with her new film "Marie Antoinette" and China's Lou Ye with "Summer Palace".
"Over the last few years, we've wanted to throw open the doors and windows to let in a burst of fresh air in contemporary creation," Fremaux said.
But, he added, "we are not obsessed with discovery and are anxious to show famous filmmakers within the framework of their on-going work."
This year's festival has a strong emphasis on Europe, featuring the work of a host of directors from emerging eastern European countries, with films exploring the conflicts and challenges arising from today's social and political movements.
"Over recent years we've sensed an East wind rising. The 2006 selection confirms it: Poland, Hungary, Romania, Lithuanian are again present," said Fremaux.
Other US directors include Richard Linklater and his "Fast Food Nation" and Richard Kelly's "Southland Tales", a futuristic comedy about the United States.
Festival organisers also wished to send a strong message about the importance of Asian cinema by choosing Wong, director of "In the Mood for Love", to head up this year's jury, which also includes the Chinese actress Zhang Ziyi, Fremaux added.
"From an artistic point, a great festival can no longer exist without Asian film," he said.
It is the first time a Chinese director has presided over the jury, which this year will also include such stars as Helena Bonham Carter, Tim Roth, Bellucci, and Jackson.
Three French films are also in the running for the Palme d'Or, which was won last year by Belgian brothers Jean-Pierre and Luc Dardenne for their gritty drama "The Child".
The usual host of glitzy and exclusive parties will be hosted in swanky hotels, luxury villas and posh yachts, while alongside the screenings moviemaking masterclasses will be given by veteran actress Gena Rowlands and director Sydney Pollack.
And, for the first time, the number of participants flocking to the busy industry "market" section -- where all the wheeling and dealing is done -- will surge above 10,000.
Source: AFP