Foreign investment in US bonds and other long term investments, including from China, rose beyond expectations despite concerns over the weakness of the dollar, official data showed Tuesday.
Net long-term capital flows to the United States climbed to 40.7 billion dollars in September from a revised 34.2 billion dollars the prior month, according to the Treasury International Capital Data (TIC) monthly report.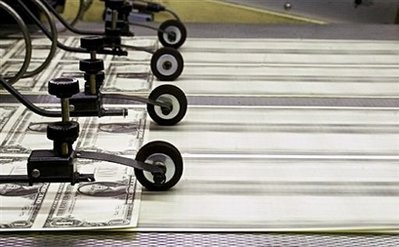 Sheets of one dollar bills are printed.
Most economists had expected flows to reach 30.0 billion dollars.
On the whole, foreigners bought 133.5 billion dollars of US securities in September, the most since October 2008, from a revised inflow of 25.3 billion dollars in the previous month.
"This is the fourth consecutive month of positive net TIC flows and good news for the greenback," said Tu Packard, a senior economist at Moody's Economy.com.
She said the Treasury data showed financial markets were on the road to recovery from the worst crisis in decades that arose from a home mortgage meltdown.
Although investors are pursuing more risky investments in line with recovery, there remains foreign appetite for US financial assets, Packard said.
Investors usually flock to the US dollar during financial and other troubles but the greenback took a hit in recent months on rising risk appetite and concerns over a ballooning US government budget deficit.
China, in the forefront of criticism on dollar's weakness, also raised its Treasury bond holdings in September to 798.9 billion dollars from 797.1 billion in August, the Treasury report said.
China, top holder of US debt, has consistently raised concerns about the mushrooming US debt, for fear it could erode the value of the dollar and its Treasury holdings.
The latest criticism came from China's chief banking regulator, who warned this week that persistently low US interest rates and a declining dollar were seriously affecting asset prices and threatening the global economic recovery.
The new data indicates that the weak dollar has actually helped to boost foreign purchases of US assets, said Kathy Lien of Global Forex Trading.
The data showed there was greater demand for long term over short term securities, suggesting that investors "have grown more confident in the US recovery and the financial markets," she said.
"Despite all of their criticism, China remains a net buyer because they know by selling Treasuries in size, they have more to lose because they could drive bond prices and the US dollar lower, particularly if the market latches onto their flow," Lien said.
The US data showed that foreign private net purchases of Treasury bonds and notes rose to 25.7 billion dollars in September from 14.8 billion dollars the prior month, and net foreign official purchases rose to nearly 19 billion dollars from 13.1 billion dollars.
Britain, Japan and Canada were the biggest buyers of US bonds for the month of September.