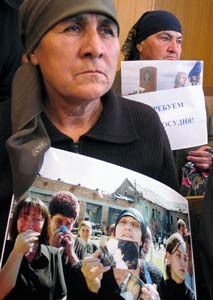 Relatives of victims of the Beslan school seizure hold pictures during the trial judging Chechen hostage-taker involved in the 2004 Beslan school massacre (AFP Photo)
Dzhabrail Kostoyev, the deputy interior minister in the province of Ingushetia, died when a powerful car bomb exploded at the moment his own car passed by outside Nazran, the main town in the province, where he was on his way to work, officials said.
Two bodyguards and four bystanders were also reported killed.
A local interior ministry spokesman, Akhmed Aushev, and initial Russian media reports said the attack was carried out by a suicide bomber, but officials later backed away from that hypothesis and said the car bomb may have been detonated by remote control.
"In all probability, there was no one inside the car that exploded," Dmitry Guruliyov, the deputy prosecutor for Ingushetia, told AFP by telephone.
The explosion had a force equivalent to around 100 kilograms (220 pounds) of TNT, Guruliyov said.
Police said a manhunt was under way in Ingushetia to catch the perpetrators of the attack, but did not specify what leads they were pursuing.
The independent Russian radio station Echo Moscow evoked the possibility that Chechen rebel warlord Shamil Basayev may have been directly involved in the planning of Wednesday's attack, which coincided with the slaying of a prison official in another Russian Caucasus republic.
An Internet website regularly used by Chechen rebels gave an account of a meeting earlier this week in one of Russia's provinces in the North Caucasus among several people it described as rebel commanders, and said Basayev also took part in the meeting.
"Shamil Basayev may have had a role in today's terrorist attack in Ingushetia," Echo Moscow said.
The Chechen rebel website, www.kavkazcenter.com, said the "commander" of the pro-Chechen rebels in Ingushetia, Yevloyev Magomed, was among those who participated in the meeting with Basayev. Magomed has been linked to other attacks on Russian officials in Ingushetia.
Attacks targeting Russian law enforcement officials are a frequent occurrence in Ingushetia, which borders Chechnya and where clashes between police and pro-Chechen fighters take place regularly.
Source: AFP