Eleven policemen and soldiers were injured in a powerful car bomb blast Thursday in the western Turkish city of Izmir, officials and media reports said.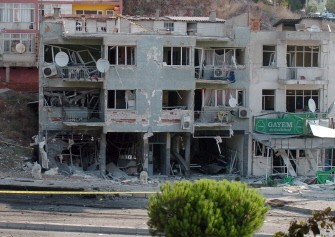 A damaged building stands after a car exploded in the western Turkish coastal city of Izmir on August 21, 2008. Eleven policemen and soldiers were injured in a powerful car bomb blast on August 21(AFP Photo)
The car, parked on the side of a road, exploded at around 7:45 am (0445 GMT) just as two minibuses, one carrying soldiers and the other transporting policemen, approached near.
"The explosion occurred in a vacant car left at the blast scene. We believe the blast was the result of plastic explosives set off by remote control," Izmir governor Cahit Kirac was quoted by the Anatolia news agency as saying.
He added that the blast had injured eight policemen and three soldiers. Earlier reports had put the casualty toll at 13 injured, including three civilians.
One of the policemen was reported to be in a critical condition.
The windows of nearby buildings and cars were shattered in the blast, which locals described as being very powerful.
Television footage showed dark smoke coming off a burning piece of wreckage in the middle of the road in front of a police minibus as police cordoned off the area and warned civilians to stay away.
Izmir, one of Turkey's main ports on the Aegean coast, has a sizeable population of Kurdish immigrants and was targeted in the past by Kurdish rebels fighting the Ankara government for self rule in the country's southeast.
In October, two bombs exploded several hours apart in a shopping area in Izmir, killing one and injuring seven others. Police said at the time that it suspected the attack to be the work of Kurdistan Workers' Party (PKK) rebels.
The PKK routinely targets Turkish security forces and Turkish media recently reported that the rebels were planning bomb attacks in retaliation for Turkish air strikes on their hideouts in neighbouring northern Iraq.
Islamist and far-left radicals have also carried out bomb attacks in Turkey in the past.
Thursday's explosion comes two days after a suspected suicide bomber pursued by police detonated a car in the southern city of Mersin, killing himself and wounding 12 officers.
Police have yet to make a statement on who was behind the attack.