A car bomb tore into a university bus in Pakistan's insurgency-torn southwest on Monday, killing four people and wounding more than 40 others, mostly Shiite Muslim students, police said.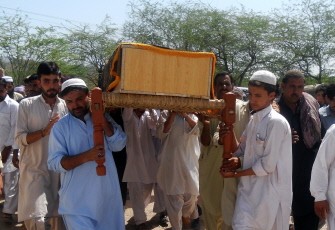 Pakistani relatives carry a coffin of a policeman who was killed in overnight bomb explosion during a funeral ceremony in the northwestern city of Kohat on June 17, 2012.
The attack took place on the outskirts of Quetta, capital of the oil- and gas-rich province of Baluchistan that borders Afghanistan and Iran.
"An improvised-explosive device planted in a car parked on the roadside exploded near the bus of the local IT university, killing four people and wounding over 40 others, mostly students," said city police chief Mir Zubair.
"The bomb targeted the bus as it carried a majority of Shiite students," he added.
Zubair identified the dead as three students and one passer-by.
The injured were transferred to a military hospital for greater protection, said Muhammad Nawaz, a doctor at the local Civil Hospital.
Baluchistan is a flashpoint for sectarian violence between Pakistan's majority Sunni Muslim and minority Shiite Muslim communities.
There was no claim of responsibility for the latest attack.
Human rights groups have heavily criticised Pakistan for failing to crack down on violence between Sunnis and Shiites, who account for around 20 percent of the population.
Thousands of people have died in related unrest since the late 1980s.
In February 2010, suicide bombers targeted first a Shiite procession in Karachi and then the civilian hospital where the survivors were being treated, killing 25 people.
Baluchistan also suffers from Islamist militancy and a separatist insurgency.
Baluch rebels rose up in the province in 2004, demanding political autonomy and a greater share of profits from oil, gas and mineral resources in the region.
It is one of the most deprived areas of Pakistan despite its resources wealth, and human rights activists have accused the military of mass arrests and extra-judicial executions in its bid to put down the separatist insurgency.
Earlier this month, UN human rights chief Navi Pillay voiced concern over allegations of "very grave" rights violations during Pakistani military operations.