Five car bombs went off around Baghdad on Sunday, killing at least six people and wounding 29, security sources said, in a seemingly coordinated series of attacks during a major Shi'ite religious rite.
Four exploded within the Iraqi capital itself. A car bomb in Baghdad's mainly Shi'ite northwestern district of Kadhimiya exploded near a bus carrying Iranian pilgrims, killing one and wounding seven, police and Interior Ministry sources said.
Other car bombs detonated near a hotel in Baghdad's central Abu Nawas street, two police patrols in the southern Ilaam district and in al-Mesbah in central Baghdad, killing three people, including a policeman, and wounding 18, the sources said.
Elsewhere, a car bomb killed two people and wounded four in Taji, 20 km (12 miles) north of Baghdad, an Interior Ministry source said. A police source said it was a roadside bomb.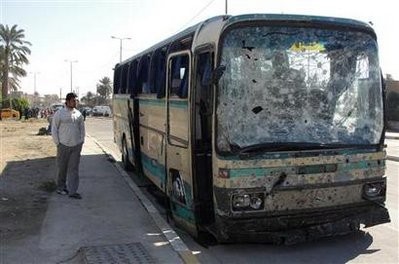 A resident looks at a damaged bus after a bomb attack in Baghdad's Kadhimiya district January 23, 2011
The government office which coordinates security in the capital said in a statement the blasts were mainly targeting Shi'ite pilgrims making a religious trek to the holy Shi'ite city of Kerbala for the annual rite of Arbain.
According to the statement read to Reuters, two members of the security forces were killed and five wounded in the Baghdad bombings.
Arbain marks the end of a 40-day mourning period for Imam Hussein, a central figure of Shi'ite Islam. It culminates on Tuesday.
A wave of bomb attacks on Shi'ite pilgrims and police last week killed at least 110 people and wounded hundreds more, posing a challenge to Iraqi security forces as U.S. troops prepare to withdraw by the end of the year.
More attacks in the coming days, especially against Shi'ite pilgrims, are likely. Around 120,000 police and troops have been mobilized to protect Shi'ite pilgrims heading to Kerbala.
Overall violence in Iraq has dropped sharply from the height of sectarian warfare in 2006-07, but Sunni Islamist insurgents still stage lethal attacks, as do groups linked to Saddam Hussein's outlawed Baath party and Shi'ite militia.
Shi'ite pilgrims are often targeted by al Qaeda, which views Shi'ites as apostates. The assaults on Iraqi police and soldiers are aimed at undermining faith in the Shi'ite-led government of Prime Minister Nuri al-Maliki, reappointed in December after a nine-month impasse following a March election.