SEOUL (AFP) – Former US president Jimmy Carter flew out of North Korea Friday after securing the release of an American citizen and a pledge from Pyongyang that it wants to resume nuclear disarmament talks.
The Nobel peace laureate left the reclusive communist state with Aijalon Mahli Gomes, an African-American who was jailed for illegally crossing into the North from China in January.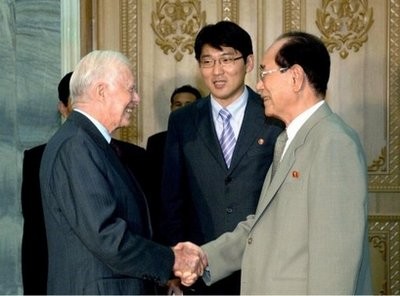 Picture received from North Korea's official Korean Central News Agency on August 26, shows former US president Jimmy Carter (L) shaking hands with Kim Yong-Nam, president of North Korean People's Assembly and number two leader. AFP
"At the request of president Carter, and for humanitarian purposes, Mr Gomes was granted amnesty" by North Korean leader Kim Jong-Il, said a Carter Center statement.
Gomes, 30, was first detained in January and sentenced in April to eight years of hard labour and a fine of about 600,000 dollars for illegal entry into North Korea.
The US State Department said it welcomed his release, while stressing anew that Washington played no official role in Carter's mercy mission.
"We appreciate former president Carter's humanitarian effort and welcome North Korea's decision to grant Mr Gomes special amnesty and allow him to return to the United States," department spokesman Philip Crowley said.
Television pictures showed Carter escorting Gomes, who was dressed in casual trousers and a white polo shirt, up the steps of a private jet with a party of North Korean officials on the tarmac.
The Carter Center said it expected Gomes would return to Boston on Friday afternoon to be reunited with his family.
"The measure taken by (North Korea) to set free the illegal entrant is a manifestation of its humanitarianism and peace-loving policy," the North's official Korean Central News Agency (KCNA) said.
KCNA also said Pyongyang had expressed its willingness through Carter to resume six-party talks which have been on ice since April last year.
The North has made similar declarations before but attached onerous conditions to any resumption of talks that have been ruled out by Seoul and Washington.
The North's number two leader Kim Yong-Nam, who met Carter Wednesday, expressed a willingness for the resumption of the six-party talks and the denuclearisation of the peninsula, KCNA said.
It said Carter and his party had an "open-hearted" discussion with North Korean officials on relations between the two countries, the nuclear dossier and other "issues of mutual concern".
The North walked out of the nuclear talks, also involving South Korea, the United States, China, Russia and Japan, in April 2009 in protest at UN condemnation of an apparent missile test disguised as a space rocket launch.
It carried out its second nuclear test the following month, sparking tougher UN sanctions.
A key obstacle to restarting disarmament talks is the sinking in March of a South Korean warship, with the deaths of 46 sailors, an attack both South Korea and the United States blame on North Korea.
But the United States on Thursday declined to rule out a resumption of the talks, possibly after the UN General Assembly late next month.
In Seoul, the Chinese envoy continued his mission Friday to push for the resumption of the talks, briefing South Korean officials on his trip to Pyongyang last week.
But South Korea expressed reservations about China's proposal for an informal meeting between Pyongyang and Washington and preliminary talks ahead of any resumption of the nuclear forum, a foreign ministry spokesman said.
Carter, now 86, had previously made a landmark visit to Pyongyang in 1994 when the United States came close to war with North Korea over its nuclear programme. He helped defuse the crisis through talks with then-leader Kim Il-Sung.