SEOUL, April 26, 2011 (AFP) - Former US president Jimmy Carter met North Korea's de facto head of state in Pyongyang Wednesday during his visit aimed at easing regional tensions and pushing nuclear disarmament.
Carter and three other retired world leaders met parliament chief Kim Yong-Nam at his office in the legislature, the North's official news agency KCNA said in a brief report.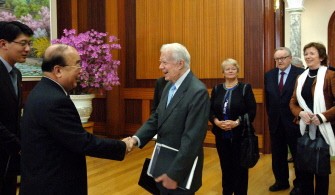 AFP - Former US President Jimmy Carter (C), accompanied by his delegation, shakes hands with North Korean Foreign Minister Pak Ui Chun (L) in Pyongyang on April 26, 2011.
Carter delivered gifts for national leader Kim Jong-Il, it said, but there was no mention of whether the visitors would get their hoped-for meeting with Kim and his son and heir apparent Jong-Un.
The North has declared its late founding leader Kim Il-Sung the country's eternal president but Kim Yong-Nam is de facto head of state and greets visiting dignitaries.
On Tuesday Carter and his team held talks with Foreign Minister Pak Ui-Chun, who hosted a reception for them.
The ex-leaders, part of a group known as The Elders which promotes peace and development, arrived in the North's capital Tuesday from Beijing. They are scheduled to fly to South Korea on Thursday and hold a news conference.
They say they want to try to reduce high tensions on the divided peninsula, assess the North's food shortages and help revive six-party nuclear disarmament talks.
Travelling with Carter are former Finnish president Martti Ahtisaari, ex-Norwegian prime minister Gro Harlem Brundtland and former Irish president Mary Robinson.
Efforts to improve North-South relations are deadlocked, with the North refusing to accept blame for two deadly border incidents last year.
The six-party talks have not been held since December 2008 and in May 2009 Pyongyang staged its second nuclear weapons test. In November it disclosed a uranium enrichment plant, a potential second way to build atomic weapons.
China has been pushing to restart the six-party forum that it chairs, but South Korea and the United States say the North must first mend cross-border relations.
The South's Foreign Minister Kim Sung-Hwan has reacted sceptically to Carter's trip, saying he does not expect significant developments.
There are no plans at present for The Elders to meet President Lee Myung-Bak in Seoul, a presidential spokeswoman said, despite their wish to do so.
Before any major dialogue takes place, Seoul wants Pyongyang to accept responsibility for the sinking of a warship in March 2010 with the loss of 46 lives.
The North denies involvement in the sinking, and says its artillery attack on a South Korean island last November -- which killed four people including civilians -- was provoked by a Seoul military drill.
China's nuclear envoy Wu Dawei held talks in Seoul with Kim Wednesday on ways to resume the nuclear dialogue, which also involves Japan and Russia.
Beijing has proposed inter-Korean nuclear talks, following by dialogue between the North and the United States, to prepare for a full six-party meeting.