LONDON (AFP) – Most Britons want the royal family to foot the bill for Prince William and Kate Middleton's wedding, as the country faces spending cuts following a deep recession, a survey said Saturday.
A majority think next year's wedding will cheer the nation and strengthen the monarchy, but they believe that the royals should keep costs down, said the Harris poll for the Daily Mail newspaper.
The survey found that 82 percent of people said the royals should cover the cost of the event, with only 14 percent saying the bill should be split with the taxpayer and a tiny four percent saying the public should pay.
Fifty-one percent of people agreed that it should be "modest" while 24 percent believed it should be a "fairly extravagant occasion".
William and Kate announced on Tuesday that they would marry in spring or summer 2011 after a nearly eight-year romance.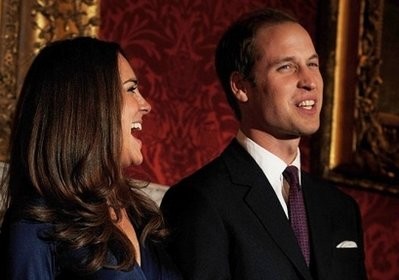 Prince William and Kate Middleton react as they pose for photographers during a photocall to mark their engagement. AFP
The couple have not yet revealed a date or venue, but an August wedding in London's historic Westminster Abbey is the favourite with the bookmakers.
Nor has there been any announcement from the government or the royal family on how the cost of the wedding will be met, although the Daily Mail reported that the couple were expected to ask the royal family to foot most of the bill.
The survey showed support for William and the royals in general, with 68 percent of those surveyed saying he would make a good king and 53 percent believing the wedding would make the monarchy stronger.
But it was less encouraging for William's father Prince Charles, the heir to the throne: 48 percent of people said he should be prepared to step aside to let his eldest son with the late Princess Diana become the next monarch.
Just a day after a US television interview showed Charles for the first time saying that his second wife Camilla "could be" queen one day, the survey showed just 14 percent backed the idea, while 52 percent opposed it.