HONG KONG, Aug 4, 2010 (AFP) - Hong Kong's Cathay Pacific on Wednesday announced plans to buy 30 new airplanes for almost eight US billion dollars, underlining the carrier's expansion as it reported strong first-half profit.
In a statement to Hong Kong's stock exchange, Cathay said the total catalogue price for the Airbus A350-900' would be approximately 7.82 billion US dollars.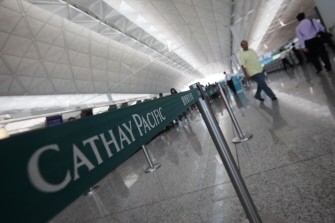 Travellers walk past a Cathay Pacific check-in barrier at Hong Kong international airport on August 4, 2010. AFP
The planes, powered by two new generation Rolls-Royce Trent XWB (Xtra Wide-Body) engines, will form the backbone of the airline's future mid-size widebody fleet and can be used for non-stop flights to Europe and North America.
The carrier said it also intended to exercise existing purchase rights for six Boeing 777-300ER aircraft with a catalogue price of about 1.61 billion US dollars.
The news came as Cathay separately announced its net profit for the first half of 2010 had soared eight-fold to 6.84 billion Hong Kong dollars (880 million US) thanks to robust passenger and freight demand.
"Our passenger and freighter schedules have been restored almost to their pre-downturn levels," chairman Christopher Pratt said in a statement.
Cathay's passenger business experienced a "marked improvement from the lows of 2009 with revenues returning to almost pre-financial crisis levels," he said, noting a particularly sharp increase in demand for business travel originating in Hong Kong.
Pratt said Cathay would continue to strengthen its fleet by adding modern, fuel-efficient aircraft.
The airline is set to take delivery of 12 Boeing 777-300ER passenger aircraft between now and 2013, having added four planes of the same model to its fleet in the first-half of this year, he said.
Cathay has also added Milan and Moscow as its new passenger destinations this year.
Pratt said cargo business had been very robust for the whole of the first half.
"We will significantly increase the operational efficiency of our freighter fleet when we begin taking delivery of a total of 10 Boeing 747-8Fs in January next year."
Cathay's share price jumped 2.99 percent to 17.90 Hong Kong dollars following its earnings announcement.
Pratt said the company expected financial results to stay strong in the second half of 2010, subject to further increases in fuel prices or any return to recessionary economic conditions.
The airline swung back to profit in 2009 after suffering a massive net loss of 8.6 billion Hong Kong dollars in 2008 on the back of huge fuel hedge losses and falling cargo revenue amid the global financial crisis.