MANILA, June 16, 2011 (AFP) - Philippine budget carrier Cebu Pacific announced Thursday it had ordered 37 new Airbus jets worth $3.8 billion as part of ambitious plans to expand operations across the Asia Pacific.
Cebu Pacific chief executive Lance Gokongwei said his airline was aiming to fly to new destinations such as Australia, building on an aggressive strategy that has seen it become the nation's top carrier in recent years.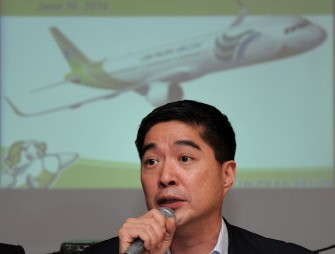 AFP - Cebu Pacific chief executive Lance Gokongwei speaks during a press conference in Manila on June 16, 2011.
Gokongwei told a news conference his company had ordered 30 Airbus A321neo jets and seven A320s, to be delivered between 2015 and 2021, in what was the "largest single aircraft order ever made by a Philippine carrier".
He said the airline also had another option for 10 more A321neo jets, which can carry more people and fly longer distances than the A320s that currently dominate Cebu Pacific's fleet.
"These 220-seater aircraft will be a game changer for Cebu Pacific," Gokongwei said.
"We will be able to serve cities in Australia, India and northern Japan, places the A320 cannot reach."
After taking to the skies only 15 years ago, Cebu Pacific surpassed national carrier Philippine Airlines recently to become the number one airline in the country in terms of passenger numbers.
It currently flies to more than 30 destinations within the Philippines and 16 across Asia.
Gokongwei said Cebu Pacific was aiming to see passenger numbers in its domestic operations grow 10-15 percent a year, with an even more ambitious target of 25-percent annual growth for its international division.
He said the 321neo aircraft would be vital in achieving Cebu Pacific's ambitions of driving ticket fares down further.
"The aircraft will reduce our unit cost per seat to a level that cannot be achieved by flying the A320s," he said.
"This means the Cebu Pacific will be able to offer even lower fares to our guests and be much more competitive with anyone flying less cost-efficient aircraft."
Cebu Pacific's fleet is currently made up of 25 A320s, which carry a maximum of 180 passengers, and eight small ATR turbo-prop aircraft.
It already has another 18 320s on order to be delivered between 2011 and 2014.
With the fresh orders announced today, Cebu Pacific's fleet size will reach 88 over the next decade.
Cebu Pacific raised 23.3 billion pesos ($540 million) last year in the country's biggest initial public offering to help fund its expansion plans.
Gokongwei said the money for the new Airbus orders would come from a mixture of borrowing and internal funds.