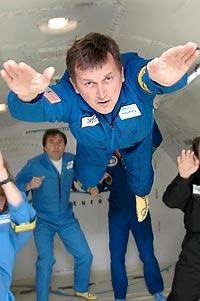 Charles Simonyi takes part in a training course for his trip to space.

Hungarian-born billionaire and ex-Microsoft whiz kid Charles Simonyi sees his trip next year on a Russian Soyuz spacecraft to the International Space Station as a chance to do some good.
"I have three goals, one of them is to advance civilian space flight, assist with the ISS research to the extent I can, and I want to involve kids in science ... meanwhile I plan to have a lot of fun," he told AFP.
Simonyi, 58, left his native Hungary at 17 for the United States where he made a fortune after joining in 1981 the "start up" Microsoft, for which he oversaw the development of Word and Excel and which he left in 2002 to co-found Intentional Software Corporation.
In March 2007, he will become the fifth person to pay more than 20 million dollars to become a cosmonaut through Virginia-based Space Adventures, which markets one of three seats on the Soyuz on behalf of the Russian Space Agency.
As a member of Expedition 15 and together with a US astronaut and a Russian cosmonaut, Simonyi will spend 10 days in space, eight of them aboard the orbiting ISS.
The astronaut and cosmonaut will remain aboard the space station for six months, but Simonyi will return to earth with two ISS occupants from Soyuz Expedition 14 who will have finished their long stint on the station.
Simonyi said he has a website (www.CharlesInSpace.com) where people curious about his upcoming space trip can ask him questions.
"Space is a magical place ... kids recognize it as such ... you can connect them with normal every days problems in using space as a hook," he told AFP in an interview in Houston.
His own dream as a teenager, he said, was not traveling in space but rather "to get out of Hungary and go to the west."
His interest in space travel is recent, he said. "I visited launches for example in Cape Canaveral (but) Space Adventure offered a more intimate look ... in Baikonur," the cosmodrome in Kazakhstan.
"I went twice ... to get a more intimate look at the launch site which was impossible at Cape Canaveral ... because in Baikonour you have maybe 100 tourists and in Cape Canaveral there are thousands," he said.
Simonyi has been training for his space trip at Russia's Star City, near Moscow. He feels "very confident" in the proven safety and reliability of the Soyuz spacecraft.
The last private citizen to go up in space was Iranian-American Anousheh Ansari, the first female space tourist, who landed September 29 in Kazakhstan after spending 11 days aloft.