Amid rising tensions with neighboring Colombia, Venezuelan President Hugo Chavez announced late Friday that his country would soon take delivery of Russian-made missiles with a range of 300 kilometers (185 miles).
"We have signed some agreements with Russia. Soon we will begin receiving some missiles," Chavez said during a meeting with supporters in front of the presidential palace.
He underscored the reliability of the Russian weaponry, but stressed that his country had "no plans to attack anybody."
But the announcement came amid rising tension between Caracas and Bogota over Colombia's decision to allow the United States access to several military bases on its territory.
Chavez said he was determined to defend his country "of any threat" and assured that the new missiles were purely "defensive."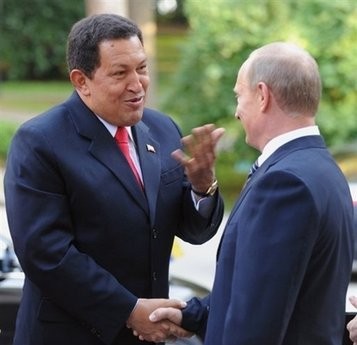 Venezuelan President Hugo Chavez (L) and Russian Premier Vladimir Putin shake hands September 10 at the Novo-Ogaryovo residence outside Moscow
He did not specify how many missiles would be delivered or whether the contract to buy them was signed during his recent visit to Russia.
But Russian President Dmitry Medvedev said Thursday that Russia would sell weapons to its "friend" Venezuela.
"These sorts of contracts are never signed in public," he told reporters after meeting Chavez at a Russian presidential residence outside Moscow.
"We will supply Venezuela the weapons that Venezuela asks for. In accordance with all international law, of course," Medvedev added.
Responding to reports that Russia would sell tanks to the Latin American country, Medvedev said: "Why not tanks? Without question, we have good tanks. If our friends want our tanks, we will deliver them."
Chavez, a firebrand leftist who has repeatedly criticized the United States, said Venezuela was building up its military with Moscow's help but insisted that this was not directed against any other country.
Following the Medvedev-Chavez talks, the Russian and Venezuelan defense ministries signed an agreement, details of which were not released.
Separately, a consortium of Russian oil companies and Venezuelan state oil company PDVSA signed an agreement establishing a joint venture to develop the Junin 6 oil field along Venezuela's Orinoco River.
Russian media reports ahead of Chavez's visit said Venezuela was seeking to buy T-72 and T-90 tanks, Kilo-class diesel-powered submarines, BMP-3 armoured vehicles, Mi-28 helicopters and land-based anti-ship missiles.
In recent years Venezuela has signed over four billion dollars' worth of arms contracts with Russia, and last November its navy held joint exercises with Russian warships in the Caribbean, traditionally seen as a US domain.
Recent Russian arms sales to Venezuela also included 24 fighter jets Sukhoi-30, 50 combat helicopters and 100,000 Kalshnikov assault rifles. Moscow has also granted Venezuela a one-billion dollar credit to finance the acquisition of its weapons.
In addition to Russia, Chavez visited Iran, Libya, Syria, Algeria, Turkmenistan, Belarus and Spain. He returned home on Friday.