Venezuelan President Hugo Chavez on Friday defended the arrest of a major TV channel owner, calling him a criminal and denying the government is carrying out an assault on press freedom.
The back-to-back arrests this week of two government opponents — including the owner of Venezuela's only remaining anti-Chavez TV channel — have drawn accusations that Chavez is growing increasingly intolerant and authoritarian as his popular support has slipped.
Opposition leaders and human rights groups condemned Thursday's arrest of Globovision's owner Guillermo Zuloaga, who was detained at an airport and released hours later after a judge issued an order barring him from leaving the country.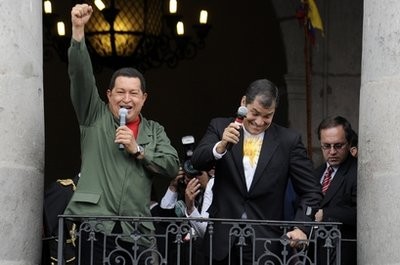 Ecuador's President Rafael Correa, right, gestures while Venezuela's President Hugo Chavez holds up his fist at a balcony of the government palace in Quito, Friday, March 26, 2010.
Zuloaga is accused of spreading false information and insulting the president at an Inter American Press Association meeting in Aruba last weekend, Attorney General Luisa Ortega said.
"A Venezuelan judge comes along and orders the detention of a criminal in Venezuela who owns a media outlet," Chavez said during a visit to Ecuador. "And then they attack the government of Venezuela ... for attacking press freedom, for attacking journalists and the news media — what cynicism. It's the cynicism of the (U.S.) empire."
Chavez also took a verbal jab at U.S. Secretary of State Hillary Rodham Clinton, accusing her of being out of touch and saying she seems more and more like her predecessor, Condoleezza Rice.
"She still considers herself the imperial lady. She is behind the times," Chavez said. "She still thinks the United States is the owner of this continent."
His complaints were echoed by Ecuadorean President Rafael Correa, who said his government would prepare its own report on human rights in the United States.
The State Department has said harassment and intimidation of the opposition and the media are on the rise in Venezuela.
Clinton said earlier this month during a Latin American tour that Chavez's government is limiting freedom and should restore "full democracy," and State Department spokesman Mark Toner has expressed concern about Monday's arrest of opposition politician Oswaldo Alvarez Paz.
Alvarez Paz was charged with conspiracy, spreading false information and publicly inciting crime after remarking that Venezuela has turned into a haven for drug traffickers, among other accusations.
U.S. criticism of Alvarez Paz's arrest prompted a diplomatic protest by Foreign Minister Nicolas Maduro, who met with U.S. Ambassador Patrick Duddy, the state-run Bolivarian News Agency said Thursday.
The two arrests were similar in that both men made remarks that authorities deemed false and offensive.
The Inter American Press Association said Zuloaga spoke in response to a group of pro-Chavez journalists who accused him of backing a failed coup against Chavez in 2002. He denied the charge and recounted his version of events, according to a transcript of the appearance.
"We are also against what happened back then because if it had been done right perhaps we would have a different Venezuela today," Zuloaga said.
He accused Chavez of ordering security forces to open fire on a protest march that was headed toward the presidential palace. Chavez maintains opponents were behind the bloodshed that preceded the short-lived coup.
Zuloaga also accused the government of limiting free speech, saying: "You cannot talk about true freedom of expression when a government uses its power to repress media, to shut down media."
Globovision has been the only stridently anti-Chavez channel on the air since another opposition channel, RCTV, was forced off cable and satellite TV in January.