Venezuelan President Hugo Chavez said Friday he has written embattled

Libya

n leader Moamar Kadhafi offering him "a big hug" and denouncing NATO's "imperial" attacks on

Libya

.
"The proud, gracious and merciful God bless and keep you. May he bless and protect the heroic and dignified people of Libya," Chavez read from his letter to Kadhafi during a live broadcast on VTV, the national news channel.
"Moamar, a big hug with an infinite sense of brotherhood," he said.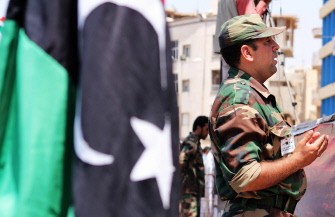 A Libyan rebel prays on the first Friday noon prayer of the Muslim holy month of Ramadan in the Libyan rebel stronghold of Benghazi on August 5, 2011.
Kadhafi has weathered a rebel uprising against his rule, backed by an intensive NATO air campaign, and held onto power despite an International Criminal Court arrest warrant for crimes against humanity.
"The empire is threatening the people," said Chavez, a harsh critic of US foreign policy who has said on many occasions that foreign intervention in Libya is aimed at wresting control of the country's oil.
Chavez' letter was in response to a message Kadhafi sent last Monday through Libyan Secretary of Finance and Planning, Abdul Hafid Al Zleitniun, while he was visiting Caracas.
"Long live the people of Libya, long life to you, my fighting brother," said the Venezualan leader, one of the Libyan leader's closest allies in Latin America.
Chavez, who has ignored Libya's rebel organization, the National Transition Council, criticized the international community's recognition of the rebel group last week and argued the act "destroys the foundations of international law."
The Venezuelan president, who is being treated for cancer, has repeatedly demanded an end to military aggression and the opening of a peaceful resolution to Libya's internal conflict.
Separately, Chavez sent a letter to the National Assembly advising that he intends to return to Cuba on Saturday for a second round of chemotherapy.