President Hugo Chavez stepped up his attacks against rival Henrique Capriles on Monday, accusing the opposition candidate's campaign of receiving mafia and drug trafficking funds.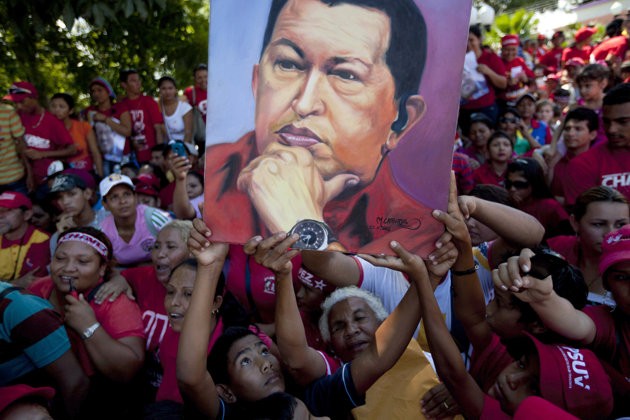 Supporters of Venezuela's President Hugo Chavez hold up an image of him during a campaign caravan from Barinas to Caracas, in Sabaneta, Venezuela, Monday, Oct. 1, 2012.
"These great businessmen have brought a lot of money to his campaign, and it has come from abroad too, from fugitive bankers, some mafias, money laundering, drug trafficking," Chavez told reporters on the sidelines of a campaign rally ahead of the October 7 vote.
Chavez did not provide more details to back his accusation.
The opposition says 80 percent of the Capriles campaign funds come from raffles, street fundraising and Internet donations. Chavez opponents counter that the president misuses public funds to promote his re-election bid.
With days to go before Sunday's election, the leftist leader charged that a Capriles victory would mark the return to power of "the bourgeoisie, big corruption and the Yankee empire." This is the term Chavez, and his close allies in Communist Cuba's government, use to refer to the United States.
Chavez was greeted by thousands of supporters in his hometown of Sabaneta, population 40,000, as he launched an intense final burst of rallies before the election.
The president, in power for almost 14 years, is the favored to win another six-year term but Capriles has given Chavez his biggest challenge yet, closing the gap to 10 points in the latest opinion poll.