US Vice President Dick Cheney accused Russia of using "brutality" and seeking Soviet-style dominance through the Georgia conflict but Russia's leader insisted that the war has changed the world map.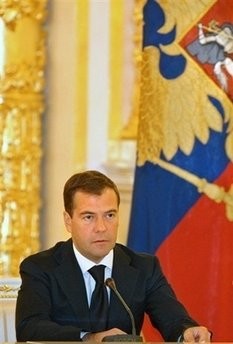 Russian President Dmitry Medvedev has accused the United States of rearming Georgia under the guise of humanitarian assistance. Medvedev made the allegations following the arrival in Georgia of US warships laden with aid.(AFP/POOL/Mikhail Klimentyev)
Diplomatic tensions heightened as French President Nicolas Sarkozy prepared a mission to Moscow on Monday to seek a stronger Kremlin commitment to a ceasefire he negotiated to end the five day Russia-Georgia conflict last month.
EU foreign ministers called for Russia to allow a new observer mission into Georgia and two breakaway regions at the heart of the hostilities.
Cheney said the West should take a stand against Russia as he gave an account of a tour to Georgia and two other ex-Soviet states to a conference in Italy on Saturday.
"Russia has a choice to make, and we in the transatlantic alliance have responsibilities," Cheney said after his visit to Azerbaijan, Georgia and Ukraine to pledge US support.
"We know that if one country is allowed to unilaterally redraw the borders of another, it will happen -- and it will happen again. We know that if we permit a new line to be drawn across Europe, that line will be drawn."
Cheney said Russia appeared to seek a return to the Soviet era and was defying its responsibilities under the French-brokered ceasefire with Georgia by recognising the independence of South Ossetia and Abkhazia.
"This chain of aggressive moves and diplomatic reversals has only intensified the concern that many have about Russia's larger objectives. For brutality against a neighbour is simply the latest in a succession of troublesome and unhelpful actions by the Russian government," he said.
He accused Russia of using its oil and gas "as a tool of force and manipulation," and said its sales of "advanced weapons" to Syria and Iran had endangered Middle East peace prospects.
Earlier, Russia's President Dmitry Medvedev asserted his country's claim for international respect and accused the United States of rearming Georgia under the guise of sending humanitarian aid on US Navy ships.
At a meeting of top officials at the Kremlin, Medvedev assertively declared that "Russia is a state that has to be reckoned with from now on."
"We have lived a moment of truth.... The world changed after August 8 this year," he said, referring to the date Russian troops entered Georgia to end its attempt to reestablish control over South Ossetia.
Medvedev again criticised the US missions to Georgia that Washington insists are only carrying relief supplies. The latest US vessel docked Friday at the Georgian port of Poti, near to where Russian troops are patrolling.
"I wonder how they would like it if we sent humanitarian assistance using our navy to countries of the Caribbean that have suffered from the recent hurricanes," Medvedev said.
Russia bombed the Black Sea port last month during the conflict and has kept troops near Poti. Medvedev described the aid deliveries as "political pressure" by the West.
RIA Novosti news agency quoted an unnamed Russian intelligence officer saying there were now seven military ships from Germany, Poland, Spain and United States in the Black Sea.
Western countries have called on Russia to withdraw all troops from Georgia immediately and have condemned Moscow's decision to recognise the independence of South Ossetia and Abkhazia.
EU foreign ministers, meeting in Avignon, France, called for an international inquiry into the conflict and the rapid deployment of an EU observer mission to Georgia.
The French president travels to Moscow on Monday to push for the full implementation of the ceasefire accord he negotiated last month.
Sarkozy will be accompanied by European Commission President Jose Manuel Barroso and EU foreign policy chief Javier Solana.
He will in particular seek Russian acceptance of an EU observer mission in Georgia and the setting of a date for international talks on the future of South Ossetia and Abkhazia.
Meanwhile, French Foreign Minister Bernard Kouchner revealed that "a translation problem" had fueled differences in interpreting the peace plan which was signed in French and then translated into English and Russian.
The difficulties have been over what Russia calls "buffer zones" around South Ossetia and Abkhazia.
A passage in the Russian version spoke of security "for South Ossetia and Abkhazia" -- whereas the English version spoke of security "in" the two areas, Kouchner said.
Russia insists the "buffer zones" are needed to stop Georgian forces threatening the breakaway provinces.