A Chilean volcano spewing dangerous ash high into the sky, sowing air travel havoc from South America to Australia for the past week, could have even more intense eruptions in the days to come, government geologists warned.
"It is possible there will be a return to increased eruptive activity" of the Puyehue volcano in southern Chile's Andes mountains, which started belching fumes on June 4, Chile's National Geological and Mines Service said late Tuesday.
It said it was detecting no let-up in the volcano's emissions, which were towering eight kilometers (five miles) into the troposhpere. It maintained its alert level at "moderate eruption."
That was bad news for airlines flying into or over Chile, Argentina, Uruguay, Paraguay, southern Brazil, and -- half a world away -- Australia.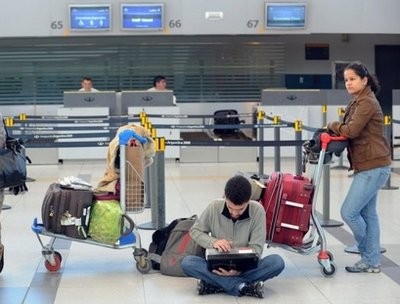 Passengers wait at Ezeiza airport after domestic and international flights in two airports in Buenos Aires were suspended due to the volcanic ash in the region, following the eruption of volcano Puyehue in Chile on June 4.
Passengers in those regions have had to ditch aircraft for travel by boat or overland, or cancel plans entirely.
The chaos recalled the massive paralysis of air travel over Europe in 2010 when an Icelandic volcano erupted.
Among the millions of passengers affected was UN Secretary General Ban Ki-moon, who on Tuesday had to take a slow boat from Argentina to Uruguay as he pursued a Latin America tour to secure support for his bid for another five-year term.
From the Uruguayan capital Montevideo, Ban was scheduled to go on to the Brazilian capital Brasilia. But a UN official speaking in New York on condition of anonymity said: "At the moment, we have no idea how he will get there."
On Monday, Ban's plane from Colombia was forced to land in the Argentine city of Cordoba, and he had to travel the 645 kilometers (400 miles) to Buenos Aires by bus on the day he celebrated his 67th birthday.
Peru's president-elect, Ollanta Humala, had to make the same sea voyage in reverse for a Tuesday meeting with Argentine President Cristina Kirchner.
Uruguay, which lies across a river from Buenos Aires, did resume some air traffic by Tuesday afternoon, although 70 flights were cancelled during the day.
Buenos Aires airports have suspended domestic and international flights for several days now, and Chile's meteorological service said prevailing winds would continue to blow the ash into Argentina through Wednesday.
With flight disruptions also in Australia, it marks the first time in 20 years that an ash cloud from an erupting South American volcano has traveled halfway across the globe, volcanologists said.
On Wednesday, Virgin Australia suspended flights into and out of Perth, in western Australia, although flights resumed to Adelaide in South Australia, with Qantas, Jetstar and Tiger all restarting services.
But Qantas again cancelled all flights to New Zealand and the southern island of Tasmania, as well as to Buenos Aires.
While Qantas has taken a conservative approach to the ash, cancelling flights, Virgin has largely chosen to fly around or under the plume with all services to New Zealand and Tasmania operating.
But it is taking no chances with Perth, saying the cloud is now lower and more dangerous.
"Virgin will suspend flights to and from Perth from 1:00 pm (0500 GMT) today," spokeswoman Melissa Thomson told Sky News, adding that around 12 services would be affected.
"The information we have received ... is that the plume is much lower. The decision to suspend services is taken with safety uppermost in our minds."
Airservices Australia said the cloud approaching Western Australia covered a band between 15,000-35,000 feet (4.5-10.5 kilometers)
Chilean seismologist Enrique Valdivieso said the eruption could run its course within a week, but it was hard to know based on precedent. The volcano's last major eruption in 1960 lasted two weeks, but an earlier one in 1921 lasted two months.
The June 4 eruption has been hardest for tourist areas near the volcano like Argentina's alpine-style resort of Bariloche, where the airport has been closed for a week, and Villa Angostura, which is 30 kilometers (18 miles) away.
The Argentine government on Tuesday declared an agricultural emergency in three southern provinces, although the agriculture ministry noted in a press release that "in no case was there ash of more than 15 centimeters (six inches)."
The eruption in 2010 of the Icelandic volcano, Eyjafjoell, caused the biggest aerial shutdown in Europe since World War II, affecting more than 100,000 flights and eight million passengers.
Puyehue's eruption sent columns of debris 10,000 meters (six miles) high, blanketing the picturesque mountains and lakes along the Chile-Argentina border in a snowy white ash and prompting the evacuation of 3,500 people.
Chile's National Emergencies Office kept its alert in the red for the area around the volcano.