China on Tuesday again warned Google not to stop filtering its web search engine results, as speculation mounted about the company's plans following its threat to leave over censorship and cyberattacks.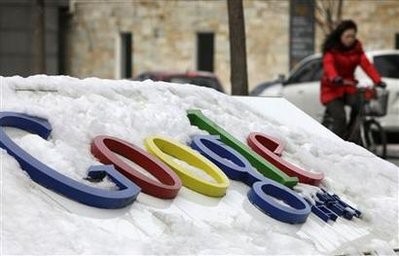 A woman rides a bicycle past the Google China headquarters in Beijing March 15, 2010
The US Internet giant has said it could abandon its Chinese-language search engine and possibly pull out of China altogether after the hack attacks. It also says it no longer wants to bow to the Chinese government's web censors.
"We have all along maintained a policy of opening-up and welcome foreign investments in China. But the prerequisite is they should respect and abide by Chinese laws," commerce ministry spokesman Yao Jian told reporters.
"We hope Google will abide by the law, no matter whether it continues to do business in China or makes other choices."
Yao said if Google were to decide to shut down its businesses registered in Beijing, it would have to notify the commerce ministry -- and so far, no such notice had been received.
The spokesman also said Beijing was "opposed to politicising business issues" -- an apparent jibe at the US government and lawmakers who have spoken out on behalf of Google and against Internet censorship in China.
Beijing tightly controls online content in a vast system dubbed the "Great Firewall of China", removing information it deems harmful -- including pornography and violence, but also politically sensitive material.
Google threatened in January to abandon google.cn and perhaps leave China altogether over what it said were cyberattacks aimed at its source code and at the Gmail accounts of Chinese human rights activists.
The company has since continued to filter results on google.cn, but says it will not do so forever.
"Google is firm in its decision that it will stop censoring our search results for China," Google vice president and deputy general counsel Nicole Wong told the US House of Representatives Foreign Affairs Committee last week.
"If the option is that we'll shutter our .cn operation and leave the country, we are prepared to do that."
China's minister of industry and information technology, Li Yizhong, warned Google last week that it would face "consequences" if it were to violate Chinese law by ending its filters, saying such a move would be "irresponsible".
The Financial Times reported at the weekend that Google was "99.9 percent" certain to move forward with plans to abandon google.cn, citing an unnamed source.
But Google China spokeswoman Marsha Wang said Tuesday that, for now, no changes had been made.
"Google has not stopped censorship. This is a rumour. We do not have any update to share," she told AFP.