BEIJING, Sept 3, 2009 (AFP) - China on Thursday granted approval to its first homegrown swine flu vaccine, which producer Sinovac says is effective after only one dose, as the country braces for a feared winter outbreak.
The decision could boost the global fight against A(H1N1) influenza, as most experts had assumed that two doses of vaccine per person would be needed to provide adequate protection.
"The Sinovac (A)H1N1 vaccine is officially approved," the head of the State Food and Drug Administration's drug registration department, Zhang Wei, told reporters.
"The completion of trials for Beijing Sinovac's vaccine has shown this vaccine to be very safe," the regulatory agency said in a written statement announcing the decision.
Zhang said the SFDA was looking at applications from nine other Chinese companies which are developing vaccines against the A(H1N1) virus, with decisions expected by mid-September.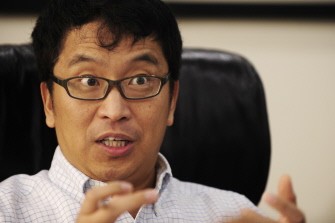 Sinovac president Yin Weidong talks to AFP at his office in Beijing's Zhongguancun district, on August 24, 2009. (AFP photo)
The approval of the Sinovac vaccine came just days after China's health ministry warned of the growing risk of a mass outbreak as hundreds of millions of students went back to school this week with the winter flu season looming.
The ministry said China had confirmed 3,981 cases of swine flu as of Wednesday, but no deaths had been reported.
The World Health Organization (WHO) says at least 2,185 people have died worldwide after contracting swine flu, now the most prevalent strain of influenza. It has been detected in nearly every country in the world.