A recent string of bird flu infections in humans in China posed no pandemic risk as the cases were unrelated, but authorities need to remain alert, UN experts said on Wednesday.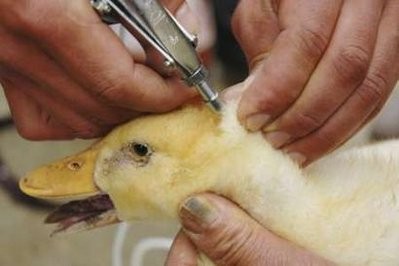 A vet injects a duck with bird flu vaccine at a farm in Shangsi county, Guangxi Zhuang Autonomous Region February 4, 2009. (AFP Photo)
"The strain we see now is not a pandemic threat," Hans Troedsson, the World Health Organisation's (WHO) representative in China, told journalists.
Troedsson spoke at a press conference in the wake of eight human cases of infection with the deadly H5N1 strain of bird flu reported in China so far this year. Five of those infected died from the disease.
Though the number of cases was up from three in China for all of 2008, Troedsson said the numbers remained too low for great concern, especially as they came during winter months when the virus temporarily gains strength.
"The eight cases do not really represent anything.... What it only says is that we have a number of cases occurring during a period when we could expect that there should be cases," he said.
With the latest deaths, 25 of the 38 people infected with the H5N1 virus in China since the disease re-emerged in 2003 have succumbed to the illness, adding to fears of an eventual pandemic.
A pandemic, or a global outbreak of a fatal disease, usually occurs every 25-30 years, Troedsson said.
"What is important is that governments make preparedness plans," he said.
Troedsson also noted that human-to-human transmission, which would signal the virus had mutated to a form easily transmissible between people, had yet to be seen.
According to the WHO, there have been 407 cases of human bird flu and 254 deaths in 15 countries since the strain re-emerged in 2003, with most occurring in Vietnam and Indonesia.
All recorded human infections of avian influenza are believed to have been directly transmitted from either diseased or dead birds, he said.
Still, much remains to be learned about the virus and governments should remain vigilant, said Vincent Martin, an avian flu expert with the UN Food and Agricultural Organisation.
"The virus is entrenched .. you cannot deny that there is infection," Martin said at the same briefing.
"What we are lacking today is a complete and full understanding of the epidemiology of the disease."