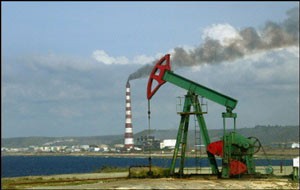 An oil-rig on the coast of Cuba (AFP Photo)
Cuba has stepped up work on a total of 36 new oil wells with Chinese companies and Canada's Sherritt, about four kilometers (2.5 miles) off the north coast, officials said privately.
The Cuban government is generally tight-lipped about oil matters but this week has been more public. The party newspaper, Granma, gave uncharacteristic front page play to news of the well, drilled to a record depth for Cuba, near Varadero east of Havana.
And diplomatic sources on Thursday said that India's ONGC Videsh and Norway's Norsk Hydro would join forces with Spain's Repsol to seek crude in the Gulf of Mexico.
That news came as US lawmakers, with oil prices soaring, grumbled ever more loudly about rivals prospecting in Cuban waters while US environmental laws make it all but impossible for US firms to do so in nearby US waters, even as the US embargo locks them out of Cuba.
In Washington Thursday, two Republican US lawmakers submitted a bill that would in effect ease the US economic embargo by allowing US firms to operate in Cuban waters.
"The American public would be shocked and stunned that as this country faces a serious energy crisis at home, countries like China, India, Canada, Spain and Norway are exploring and drilling 50 miles off the US coast," said Republican US Senator Larry Craig of Idaho.
US companies would be allowed to engage in any transaction necessary and could travel for business purposes without a special license from the US government, said Craig, joined by congressman Jeff Flake of Arizona.
"China, as our National Security Strategy points out, is trying to lock up resources around the world, and they are locking up resources in our own backyard where we can't even compete and play ball," argued Craig.
The deal with ONGC Videsh and Norsk Hydro, to be signed officially in Havana May 23, technically is not a new contract.
"Those companies are joining the existing one with Repsol to share risks," a European diplomat told AFP privately.
Repsol has rights to six of the 59 prospecting areas the Cuban government has been auctioning off since 1999. It carried out its first drilling in 2004 and while oil was found, Repsol said the crude was not of commercial grade.
Since then Repsol has been looking for partners to share the investment burden, and ONGC Videsh and Norsk Hydro each will be picking up 30 percent of the expenses, other sources said.
The gulf's waters were divided into economic exclusion zones of the United States, Mexico and Cuba under a deal that is still in effect signed during the government of then-US president Jimmy Carter.
Among other companies with prospecting rights if not projects there are Canada's Sherritt International and Brazil's state oil giant Petrobras.
Cuba has invited US firms to take part but the US economic embargo bars them from doing so.
Cuba produces about a third of the oil it consumes, with the rest imported under favorable terms from a key ally Venezuela.

Source: AFP