President Hu Jintao addressed a ceremony at Tiananmen Square in Beijing on October 1 to celebrate the 60th National Day of the People's Republic of China.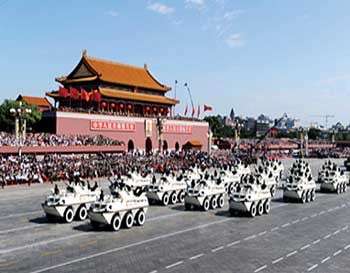 An armored unit at the military parade held at Tiananmen Square, Beijing, on October 1 to mark China's National Day (Photo: AFP)
The event was attended by many Party and Government leaders, ministry officials, local authorities, representatives of diplomatic missions in Beijing, and foreign guests.

Mr. Hu, who is also the general secretary of the Communist Party of China, said that the country would promote peaceful cross-Taiwan Strait relations and maintain its principles of "peaceful unification" and "one country, two systems" to keep stability and prosperity in Macao and Hong Kong.

He said China would also maintain its policy of peaceful development and friendly relations with all other countries under its five principles of peaceful co-existence: mutual respect for each other's sovereignty and territorial integrity, mutual non-aggression, non-interference in each other's internal affairs, equality and mutual benefit, and peaceful coexistence.
He highlighted the significance of the coming into being of the People's Republic of China 60 years ago and the country's achievements since adopting its renovation and open-door policy 30 years ago.
He called on the Party, army and people to endeavor to build China into a modern, harmonious, civilized, democratic, and prosperous country, and join hands with other countries to boost peace and prosperity in the world.
Following his speech was a parade involving 200,000 military and civilian participants and a military parade by more than 8,000 soldiers and modern equipment.
 
Also participating were a 1,300-member military band, a choral band of 2,100 singers and 300 children.