A Beijing court will hear a case filed against "Avatar" director James Cameron by a Chinese man who claims the idea for the sci-fi film came from a novel he published, state media said Saturday.
After throwing out the case in March due to insufficient evidence, the court agreed to the hearing after Zhou Shaomou dropped a demand for as much as 147 million dollars in compensation, the China Daily said, citing the author.
"Avatar", the top-grossing movie of all time, has raked in some 2.7 billion dollars worldwide since its release.
"I was told to go to the court next Monday to provide more material," Zhou said, without providing details of the new evidence.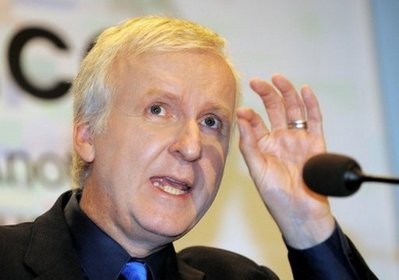 James Cameron, director of the Hollywood blockbuster Avatar, speaks at a press conference during a digital forum in Seoul in May
Zhou has reserved the right to seek compensation before the Beijing Number One Intermediate Court rules on the case, the state-run newspaper said.
A court official told the China Daily that it could take six months before the case is heard.
"Due to the fact that some accused parties are foreigners or foreign companies it takes time to send the indictment through diplomatic channels," the official Lu Yao said.
Besides Cameron, Zhou is also suing 20th Century Fox Film Corporation, two Chinese movie distributors and Haidian Theatre where he watched the film.
Zhou said the plot of "Avatar" -- the story of a paraplegic former US Marine who is sent to live with a race of blue aliens on the Earth-like moon Pandora -- closely resembled that of a novel he wrote in 1997.
The novel, "The Legend of the Blue Crow", was published on two Chinese websites in segments in 1999, previous state media reports have said.
However, the official website for the film says Cameron first developed the idea 15 years ago -- a few years before Zhou's novel was completed.
"Avatar" has been wildly popular in China, quickly becoming the highest-grossing film in the country's history after its January 4 release in both 2D and 3D versions.