Buddhist monks rushed to cremate hundreds of China quake victims over sanitation fears Saturday as hopes dimmed of finding further survivors among the more than 400 still listed as missing.
Naked, bloodied and bruised corpses were piled on a massive funeral pyre outside the shattered town of Jiegu on the remote Tibetan plateau and lit by chanting Buddhist monks, three days after the quake killed more than 1,100.
The scale of the calamity and fears of disease forced a break from traditional Tibetan "sky burials" in which corpses are left on mountaintops to decompose or be consumed by vultures.
"We have never had a disaster like this. We have never had so many people die. Cremation is the only way to send these souls off," said Jiemi Zhangsuo, head of the area's main Buddhist monastery that handled the ceremony.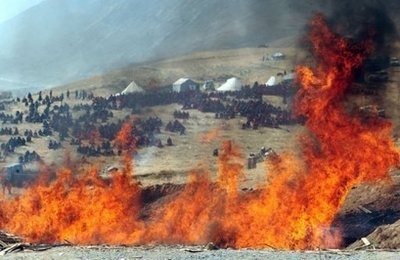 Buddhist monks watch a mass cremation on a hillside in Jiegu, Yushu County
But the struggle was far from over for the devastated area of Qinghai province, with thousands left homeless and injured as authorities fought to get sufficient relief personnel and aid to the isolated region.
The official death toll of 1,144 looked set to rise with officials saying on Saturday that more than 400 people were still missing and almost 1,200 seriously injured.
In contrast with official figures, monks in the overwhelmingly ethnic Tibetan region said they cremated 1,400 people at the ceremony, but AFP could not independently confirm that figure.
More than 11,000 people were injured in Wednesday's quake on the high Tibetan plateau, which caused flimsy traditional mud and wood dwellings to collapse.
Infrastructure in Jiegu, the main population centre in the quake-hit region, has been shattered, with the water supply "basically paralysed", Xia Xueping, spokesman for relief efforts, told a news briefing in the town.
President Hu Jintao returned to Beijing on Saturday after cutting short an overseas trip due to the quake, cancelling visits to Venezuela and Chile, which is still recovering from its own quake disaster.
About 13,000 rescue personnel had arrived in the region to aid rescue and recovery efforts, pulling more than 1,200 people from the rubble of collapsed buildings and bringing relief supplies, state media reported.
But Geng Yang, head of Qinghai's civil affairs bureau, told a news briefing in Jiegu that essential items such as food, drinking water, cold-weather tents, quilts and clothing remained in short supply in the hard-to-reach area.
The Qinghai government has meanwhile warned of a growing disease threat due to sanitation risks including damage to water supplies that could leave them polluted, although no such outbreaks had yet been reported.
A light snowfall began Saturday in the region, where relief efforts have also been complicated by sub-zero temperatures at night and scant oxygen due to the altitude of around 4,000 metres (13,000 feet).
At least 200 trained rescuers were forced to leave the area after they began suffering from altitude sickness, state-run Xinhua news agency said Saturday.
More than 1,000 aftershocks have been detected, including one Saturday morning with a magnitude of 5.1 that was centred about 400 kilometres (250 miles) west of Jiegu, according to the US Geological Survey.
State media said earlier the dead included more than 100 students and 12 teachers as schools and dormitories collapsed, with dozens more missing, recalling the devastating 2008 quake in neighbouring Sichuan.
Thousands of students were among the 87,000 killed or missing in that disaster amid allegations shoddy construction was to blame.
Rescuers suffering altitude sickness pulled a 13-year-old girl and an elderly Tibetan woman with broken legs from the rubble on Friday, 57 hours after the quake, Xinhua said.
But hopes of finding other survivors were fading three days after the disaster.
"The first 72 hours offers the best chance of survival after such a calamity strikes," Xi Mei, a medical attendant with the China International Rescue Medical Team, told Xinhua.