Measures taken by China to combat the global economic crisis are beginning to show results, state media Saturday quoted Premier Wen Jiabao as saying, ahead of first quarter results due next week.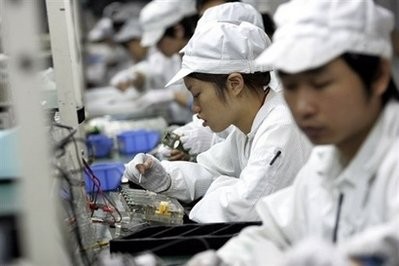 Workers produce the Chinese-made handsets "Spice" at a semi-hightech factory in Shenzhen, southern China's Guangdong province on December 2008. (AFP Photo)

"The economic indicators for the first quarter will be published next week but I can tell you that the measures we have taken are beginning to show their first results," Wen said at a meeting with the Chinese community in Thailand, according to the China News Agency.
In a video recording of Wen's address, released on the website of Hong Kong's Phoenix TV, PM Wen said that investment flows and demand had increased. He did not give precise figures.
"The difficult situation that some sectors and businesses were in is beginning to change... credits and loans are increasing rapidly," he added.
"The economic situation is starting to change in a positive way, the situation is better than we had expected."
Chinese authorities in November unveiled an unprecedented four trillion yuan (455-billion-dollar) stimulus package to combat the crisis.
In the fourth quarter of last year, China's economy grew only 6.8 percent. Economic growth for 2008 was nine percent, down from 13 percent in 2007.