China's Middle East envoy Wu Sike cautioned Syria during a visit to Damascus of the dangers of a government crackdown on dissent that he said "cannot continue," he told reporters in Cairo on Sunday.
Wu said that he "affirmed to senior officials in Syria of the danger of the situation and that it cannot continue," during his visit to Damascus on Thursday.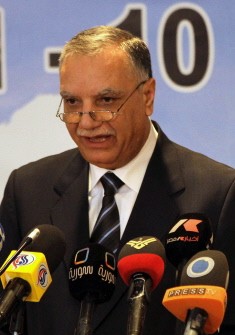 Syrian Prime Minister Adel Safar adresses the opening of the National Forum for Economic Dialogue in Damascus on October 30, 2011.
He said President Bashar al-Assad's regime must "respect and respond to the aspirations and rightful demands of the Syrian people," according to an Arabic translation of his remarks in Mandarin by an interpreter travelling in his delegation.
Wu said China supported an Arab League proposal for Assad's regime to hold talks with dissidents, some of whom he met during his visit to Damascus.
"Syria has to show some flexibility in that regard in order to help the Arab League implement its proposal," he said, when asked whether he believed Assad's regime should negotiate with overseas-based dissident groups.
China, along with Russia, vetoed a Western-drafted resolution at the UN Security Council on October 4 that would have threatened Assad's regime with targeted sanctions if it continued its campaign against protesters.
Asked whether China would veto further resolutions if the regime continued its crackdown, which the UN says has killed more than 3,000 people, Wu said he warned Syrian officials of the dangers of the continuing unrest.
He added that the "international community must respect Syria's sovereignty" and that China "would continue its efforts internationally and in the Security Council to find a solution."
Asked whether China would raise the pressure on Assad, he said: "At this time we must concentrate on ending the bloody clashes" through the Arab League's efforts.
Syria has been shaken since mid-March by an unprecedented protest movement against the regime of President Bashar al-Assad.