BEIJING, Jan 1, 2010 (AFP) - China is expected to grow by about 9.5 percent in 2010, state media quoted a government think tank as saying Friday, exceeding forecasts made by outside experts for the new year.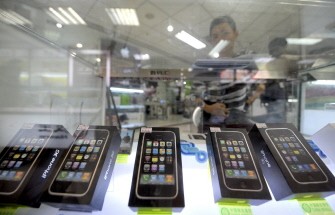 A salesman sits behind a display showing real Apple iPhones in a counter in Beijing in this October 28, 2009 file photo. (AFP photo)
The world's third-largest economy will be boosted by double-digit growth in real estate investment and mild inflation, the State Council's Development Research Centre said in a report published in the China Economic Times.
"In 2010, the external environment will remain rather grim but it will not deteriorate further," Zhang Liqun, a macroeconomist at the centre, said in the report.
Zhang added that exports -- a key driver of economic growth -- would start to grow again in the coming year.
The think tank's 2010 economic growth forecast is well above Beijing's oft-stated target of eight percent -- seen as crucial for job creation and ensuring social stability -- and is higher than estimates for 2009.
For 2010, the Asian Development Bank has put its economic growth forecast for China at 8.9 percent, while the International Monetary Fund predicted growth of nine percent.
China's economy grew by 8.9 percent in the third quarter of 2009 -- the fastest pace in a year -- after expanding by 7.9 percent in the second quarter and 6.1 percent in the first, the slowest pace in more than a decade.
Zhang said real estate investment was expected to grow by 30 to 40 percent in 2010 and become the "main source driving investment growth".
China last month vowed to tighten supervision of the real estate market to curb "overly fast" price rises that have raised fears of a property market bubble.
The country's consumer price index, a key measure of inflation, is estimated to remain below three percent, Zhang said.