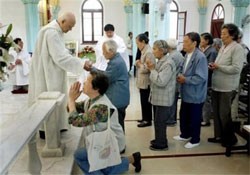 Chinese Catholics participate in a mass at a church Sunday May 7, 2006 in Shanghai, China
"The Vatican did not give consideration to the history and current situation of Catholicism in China and made criticism of China's Catholic churches," foreign ministry spokesman Liu Jianchao said in a statement on the official Xinhuanet website.
"This is without any reason."
Mr. Liu reiterated China's longstanding conditions for improving relations with the Vatican.
"The Vatican must sever so-called 'diplomatic relations' with Taiwan, and must not interfere in China's internal affairs, including interfering in China's internal matters in the name of religion," Mr.Liu said.
He insisted China was "full of sincerity" in wanting to improve ties with the Vatican.
"Based on this spirit, we are willing to enter into constructive dialogue with the Vatican and continue to explore ways to improve relations," the spokesman said.
In a strongly worded statement Thursday, the Pope accused the Chinese government of a "serious violation of religious liberty" in ordaining two priests as bishops and said the two men and others were pressured to take part in the ordinations.
He demanded China respect the freedom and autonomy of the Roman Catholic Church, which says it is the only body that can make decisions on the appointment of bishops.
However the State Administration of Religious Affairs Saturday defended China's decision and hit back at what it called senseless criticism from the Vatican.
"The selection and ordination of bishops are a need of Chinese Catholic churches to conduct normal church activities," said an administration spokesman.
"The remark... makes no sense," the spokesman said, adding that the selection of bishops by China's Catholic Church had lasted for half a century since the Communist Party came to power in 1949.
China now has 97 dioceses, but more than 40 of them do not have bishops. In addition, most bishops are old.
A top Chinese Catholic official last week did not rule out the appointment of more bishops without papal consent.
China has insisted the two bishops ordained were selected with respect to the wishes of priests and believers in their dioceses.
China cut diplomatic ties with the Vatican in 1951. That prompted the Vatican to switch its recognition to Taiwan, viewed by China as a renegade province.
Source: AFP