BEIJING, July 24, 2009 (AFP) - United Nations chief Ban Ki-moon said here on Friday that China's support was crucial if a new international climate change deal was to be successfully brokered.
"Without China there can be no success this year on a new global climate framework deal," Ban said during a speech to launch a programme promoting environmentally friendly lights.
"But with China there is an enormous potential for the world to seal a deal in Copenhagen."
Ban will oversee a UN summit in the Danish capital in December aimed at hammering out a new climate change pact to cut the greenhouse gas emissions that are blamed for global warming.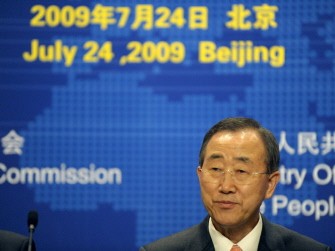 United Nations Secretary General Ban Ki-moon attends at the signing ceremony of GEF/UNDP/China Program "Phasing out Incandescent lamps, Promotion of Energy Saving Lamps" in Beijing on July 24, 2009 (AFP photo)
China and other developing nations are opposed to any compulsory cuts in their emissions, saying the historic responsibility for solving the problem rests with the developed countries that have polluted for so long.
But amid hopes from many players involved for some form of compromise, Ban said China's decisions leading up to Copenhagen would be crucial in setting the foundations for any deal there.
"Strong signals from China on mitigation actions announced before Copenhagen will help push the negotiating process forward. They can also direct responsibility to other key countries to do more," he said.
The US Congress is considering legislation that would reduce its greenhouse gas emissions by 17 percent from 2005 levels by 2020. But China has said such cuts are not enough.
When the US special envoy for climate change, Todd Envoy, visited Beijing last month, China reiterated that developing countries should be held to a different standard on emissions.
China and the United States are the two biggest emitters of greenhouse gases.