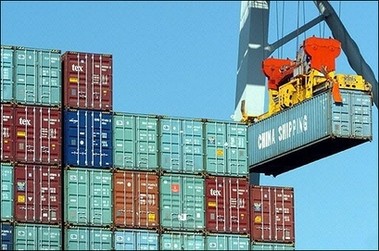 The Chinese container ship CSCL Asia from Hong Kong, unloads cargo in 2005. (AFP Photo)
China said Tuesday it hopes next week's high-level trade talks with the US can help smooth out frictions between the two economic giants.
"In the process of development, it is quite natural for two countries to have some frictions. We hope the two sides can ... press ahead with healthy development of economic relations," a foreign ministry spokeswoman Jiang Yu said.
The two sides will meet in Washington for the twice-yearly "Strategic Economic Dialogue" begun by Treasury Secretary Henry Paulson.
Vice-Premier Wu Yi, one of China's most powerful officials, will lead China's delegation, Jiang said.
The last meeting, in December, ended with little progress made in ironing out trade disputes ranging from restricted access to Chinese markets to US accusations that China keeps the value of its currency artificially low to boost exports.
Beijing pushed back somewhat at the December meeting, saying the US does not fully understand the economic and development challenges faced by China.
However, Jiang said China views the platform as vital to US relations, while declining comment on any specific positions China will take in the meeting.
"The mechanism has become an important platform for the two countries concerning major long-term economic issues and plays a very important role in the overall relationship between the two countries," she said.
Jiang also said US Congress members who have threatened punitive trade action unless China's yuan currency appreciates more quickly are ignoring efforts China has made on the issue.
"We always hope the senators or congressmen of the US can correctly understand the policies of China in this regard and take a positive and active role in promoting China-US relations," she said.
Jiang noted a slow but steady appreciation of the yuan since 2005, when China instituted a program of exchange rate reform.