The leaders of China, Japan and South Korea on Saturday called for the quick resumption of talks on ending North Korea's nuclear drive, with Beijing saying the door was open to make real progress.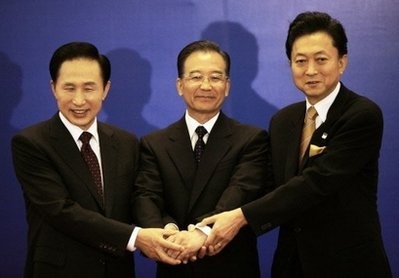 China's Premier Wen Jiabao (C), his Japanese counterpart Yukio Hatoyama (right) and SKorean President Lee Myung-bak shake hands before a trilateral leaders summit at the Great Hall of the People in Beijing. (AFP Photo)
The leaders, who pledged to deepen regional cooperation, said they would work together to ensure the success of global climate talks in Copenhagen later this year and promote the development of clean energy technologies.
The summit between Chinese Premier Wen Jiabao, new Japanese Prime Minister Yukio Hatoyama and South Korean President Lee Myung-Bak was only the second to bring the regional leaders together, after one in Japan last year.
"We will remain committed to dialogue and consultation and continue to work through peaceful means to pursue the denuclearisation of the Korean peninsula," the leaders said in a joint statement after the morning meeting.
"We will make joint efforts with other parties for an early resumption of the six-party talks, so as to safeguard peace and stability in Northeast Asia, and thereby to build an Asia of peace, harmony, openness and prosperity."
North Korea said Monday during a visit to Pyongyang by Wen -- the first by a Chinese premier in 18 years -- that it was willing to return to six-party talks but only if it first was granted direct negotiations with the United States.
Washington has said it would agree to bilateral talks within the framework of the six-party disarmament forum, but that the goal must be a complete end to Pyongyang's nuclear weapons drive.
The six-way negotiations are hosted by China, a close ally of North Korea, and also include South Korea, the United States, Russia and Japan.
"We are faced with an opportunity, but this opportunity may slip by. The key is what we do. We need to seize the opportunity and make the most of it," Wen told a joint press conference.
"On the issue of the six-party talks, the DPRK side showed flexibility," he added, noting that Pyongyang "not only hopes to improve its relations with the United States, but also to improve relations with Japan and South Korea".
Both Lee and Hatoyama said they were encouraged by Wen's descriptions of Pyongyang's attitude.
"Premier Wen said North Korea was willing to have talks with South Korea. I welcome this," Lee told reporters.
Hatoyama added: "I would like to trust these words."
South Korea's Yonhap news agency reported on Friday that a key North Korean diplomat was likely to visit the United States later this month, which could provide a rare opportunity for face-to-face talks with US officials.
Lee said he had presented what he describes as a "grand bargain" for North Korea's nuclear disarmament -- massive aid and diplomatic and security guarantees in return for a firm commitment to total denuclearisation.
"We agreed that it's important that the three countries cooperate on this issue," the South Korean president said.
Hatoyama backed Lee's approach, saying: "We stand on common ground."
The Japanese and South Korean leaders on Friday called for a "fundamental change" in North Korea's attitude to end the nuclear standoff, and said sanctions should stay in force until such a change occurs.
The three leaders also committed Saturday to expand their cooperation "in the spirit of facing history squarely and advancing towards the future".
Hatoyama, who took office last month, is looking to erase the distrust and frequent animosity that marked Tokyo's relations with its neighbours under the previous Liberal Democrat leadership.
Chinese State Councillor Dai Bingguo said Friday after meeting with Japanese Foreign Minister Katsuya Okada that relations between Beijing and Tokyo were off to a "good start" under Hatoyama, state media reported.
On climate change, the trio said they would "work closely together... to contribute to the successful achievement of the Copenhagen conference" -- while maintaining that countries bore "common but differentiated responsibilities".
More than 190 countries will converge in the Danish capital to try to hammer out a treaty to tackle global warming that will succeed the Kyoto Protocol, which expires in 2012.
Rich nations have pushed emerging giants such as China and India, which had no obligations under Kyoto, to commit to binding action on reducing greenhouse gas emissions that would be in keeping with their level of development.