China kept the yuan exchange rate unchanged Monday, the central bank said, despite a weekend pledge by policymakers to make the currency more flexible.
The People's Bank of China set the central parity rate -- the centre point of the currency's allowed trading band -- at 6.8275 to the dollar, unchanged from Friday, according to a statement on its website.
The central bank said Saturday it would "strengthen the flexibility" of the yuan exchange rate, which some analysts saw as a sign Beijing was ready to adjust the dollar peg in place for two years and allow the currency to rise.
However, the bank moved Sunday to douse expectations, saying there would be no "large swings" in the currency and no one-off adjustment.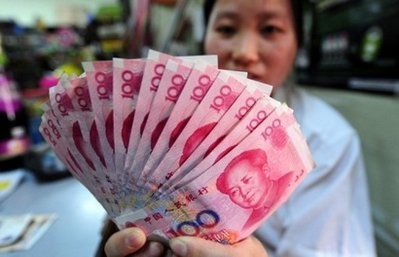 A shop worker holds a display of 100 yuan notes in Beijing on June 20, 2010
China has effectively pegged the yuan at about 6.8 to the dollar since mid-2008 to prop up exporters during the world financial crisis.
But it has come under mounting pressure ahead of next weekend's Group of 20 summit in Toronto to allow the currency to strengthen.
The issue has been a constant irritant in US-China ties, with American lawmakers charging Beijing deliberately undervalues the yuan, unfairly boosting Chinese manufacturers and costing US jobs.
The currency has been allowed to move within a 0.5-percent range on either side of the peg, and the central bank said Saturday it would maintain the existing trading band.
Analysts expect the currency to appreciate, albeit by a very small amount, this week amid the belief that Beijing wants to head off an ugly spat with Washington at the June 26-27 meeting in Canada.
"I would expect some appreciation ahead of the G20 as a token of goodwill," said Ben Simpfendorfer, an economist at Royal Bank of Scotland in Hong Kong.
However, the central bank's decision to leave the central parity rate unchanged Monday showed "gradualism will remain the guiding rule", he added.
Simpfendorfer expects a three percent yuan appreciation over the next 12 months, a pace that could invite renewed US impatience and pressure on China.
The central bank stressed it would maintain control over "exchange rate fluctuations" and ensure the "basic stability" of the currency -- official speak for keeping a tight grip on the yuan.