As European and US economies falter, China is making a trade push with the Arab world, where businessmen say recent political changes will further open up the region to investment.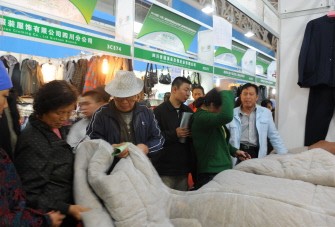 Visitors look at products during the China-Arab State Economy and Trade Summit in Yinchuan, in northwest China's Ningxia region on September 21, 2011.
A major Sino-Arab trade forum is currently under way in the northern region of Ningxia, where politicians from the Maghreb and Middle East and members of the Gulf's ruling families have come to mix with hundreds of entrepreneurs.
Participants in the forum say recent regime changes in some Arab states have created a favourable environment for business, and many countries in the region are looking to Beijing to help them bridge their development gap.
China's trade exchanges with Arab countries, while not as extensive as with some other nations, are growing by 30 percent annually, Jia Qinglin, one of the nation's top nine leaders, said at the opening of the meeting.
Many members of China's Muslim Hui minority live in Ningxia -- located on the ancient Silk Road -- which may explain why Beijing chose the isolated region as a platform to promote trade with the predominantly Muslim Arab world.
According to organisers of the forum -- which kicked off Wednesday and goes on until Sunday -- the 22 countries that make up the Arab League have sent representatives, along with other non-Arab states, particularly from Africa.
Jia -- head of the Chinese People's Political Consultative Conference, a legislative advisory body -- said that over the past five years, trade between China and Arab states has increased from $65 billion to $145 billion.
The exchanges -- once centred on hungry Beijing's need for oil and gas -- are diversifying into the food, financial services, textile, tourism, industrial equipment, aviation and maritime transport sectors.
And according to several participants in the forum in Yinchuan, Ningxia's capital, recent political upheavals in several Arab states are expected to trigger more openness, which will work in favour of trade with China.
"We have seen uncertainties in many countries," said Mohammed Bin Essa Al-Khalifa, head of the Economic Development Board in Bahrain, where Shiite-led democracy protests in March were crushed by the Sunni monarchy.
"At the same time we embrace more opportunities, and we should expect an opening up to commerce... The global economic centre of gravity is moving towards the East."
Amr El-Adawi, an Egyptian businessman who works in China, said he thought the new situation in his country -- where the 30-year reign of Hosni Mubarak ended in February after 18 days of protests -- would be conducive to business.
"We have had 30 years without any development in Egypt," he told AFP.
Tarek Yakhlef from the Tunisian Union for Industry, Commerce and Handicrafts also predicted that the January ouster of President Zine El Abidine Ben Ali will create "a favourable environment for exchanges and investment."
He said he had not expected Yinchuan -- with its large, straight avenues bordered by tall buildings -- to be as modern, hidden as it is in remote Ningxia.
"We thought that (only) the coastal towns were developed in China, so we're surprised. Infrastructure (here) is developed, and people are well organised," said Yakhlef.
Other participants in the forum praised the capability of China's industrial firms.
"The Europeans, with all due respect, have two main problems -- delays and capacity," said Khaled El-Ruz, a Kuwaiti who works in the oil and gas industry and in shipyards.
"The Chinese are really occupying the market," he said, adding that they often managed to be 20 percent cheaper on tenders in his sector.