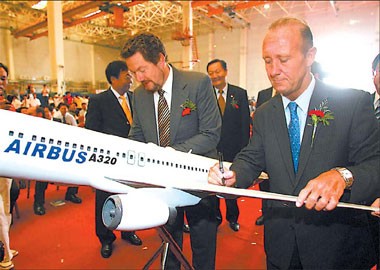 Airbus China President Laurence Barron (left) and Airbus Senior Vice-President Brian Fleet sign on a Airbus model yesterday to mark the historic moment of the delivery of the first A319 wing box made in China.
A Chinese firm has made its first delivery of a wing box to Airbus, making it the aviation giant's first supplier of the part outside Europe, state media reported on Wednesday.
The A319 wing box, part of the wing structure, was handed over to Airbus officials during a ceremony Tuesday in the northern city of Xian by manufacturer Xian Aircraft Co., the China Daily reported.
Xian Aircraft vice president Tang Jun was quoted as saying the event marked an important step forward in Chinese aircraft manufacturing as the 1.75-million-dollar parts were the largest and most complicated Airbus components ever made in China.
XAC is a division of China Aviation Industry Corporation I (AVIC I), one of China's biggest aircraft makers.
Airbus has over the years steadily increased its cooperation with China, signing a number of deals with Chinese manufacturers.
In May, it broke ground on a major new factory near the northern city of Tianjin, its first outside Europe, which will produce up to 50 Airbus A320 aircraft by 2011.
The wing box delivery "reaffirms Airbus' commitment to a meaningful partnership with China," Airbus China President Laurence Barron was quoted as saying in the report.
China expects to obtain additional wing-related manufacturing contracts from Airbus and eventually supply wings to the A320 plant, the newspaper said.
Airbus has ordered 250 sets of wing boxes, it said.
Two sets will be provided this year, with production picking up to four sets a month by the end of 2009, Tang said.