Shanghai's stock market is set for major changes in 2010 that could help close the gap with London and New York as the Chinese city strives to become a global financial centre, analysts say.
China began the year with a strong signal that it is serious about its goal of turning Shanghai into a leading finance hub by 2020, approving a raft of measures that give investors more sophisticated investment options.
Previously, mainland investors were only able to bet on stocks going up, but the State Council, or Cabinet, has approved trials of short-selling and margin trading that would allow investors to profit from falling markets as well.
"The ultimate introduction of the new investment options is, without doubt, a revolutionary move for China's capital markets," said Zhang Jian, a Beijing-based analyst with BOC International, Bank of China's brokerage unit.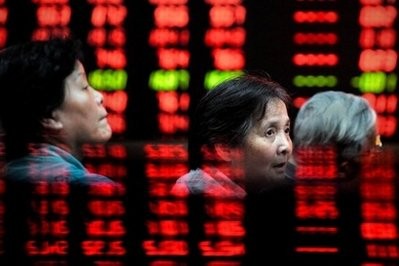 Investors are seen through stock index monitors at a trading house in Shanghai
Margin trading allows investors to borrow money from financial institutions to buy shares they expect to rise.
If the share price goes up, they can easily pay back the borrowed money. If the price goes down, investors must still pay back the full amount borrowed.
Short-selling allows investors to sell borrowed shares when they expect the price to decline. If the price falls, they can buy the shares at the lower price and return them to the lender.
"It opens a new chapter for China's domestic equity market. With these new rules, the A-share market will no longer be a 'one-way street,' as shorting and hedging become possible," Deutsche Bank economist Jun Ma wrote in a note.
"It is also a major step towards the internationalisation of the Chinese market," he added.
The central government has also approved a stock index futures market that will also give investors opportunities to profit when the market falls and help them hedge risks.
Preparations for the index futures market began years ago, with mock trading already running for three years. Margin and short trading systems tests began in late 2008.
Now that Beijing has given the green light, the new trading options could begin within three months, analysts said.
"These steps will speed up the pace for Shanghai to become an international financial centre," said Peng Yunliang of Shanghai Securities.
The changes come on top of expectations that the Shanghai Stock Exchange will see its first foreign listing in 2010 -- HSBC has said it hopes to be the first, with a listing that could come as early as March, according to reports.
The developments -- combined with the launch on October 30 of China's Nasdaq-style ChiNext board, which aims to boost start-ups as well as small and medium-sized companies -- mark huge strides for Chinese capital markets and show growing confidence.
Both shorting and margin trading magnify risks, but experts say the practices could help reduce volatility over the long run by increasing liquidity.
Shanghai's market has seen huge swings in recent years. The benchmark Shanghai composite index soared 80 percent last year, but that came after a 65.5 percent plunge in 2008. So far this year the index is down 1.6 percent.
But China's asset prices are expected to continue to take off in 2010, with the economy expected to expand at roughly 10 percent, and investors will want to keep profiting from growing earnings, Macquarie Bank said in a note.
What impact will index futures trading have on the market?
Goldman Sachs studied the mock trading in China, which has seen eligible brokerages and the general public practising in simulations that involve no money since 2007.
The simulations suggest a maturing market with a bias towards long positions, or bets prices will rise, the US investment bank said in a research note, adding volatility declined as the mock trading progressed.
"The developments bring China a step closer to being ready to start foreign listings and attract world-renowned foreign companies to list in a market that is getting more mature and international," Shanghai Securities' Peng said.