China's milk crisis will likely cost billions of dollars, disrupt millions of livelihoods, and it could be a year before consumer confidence in dairy companies is restored, experts say.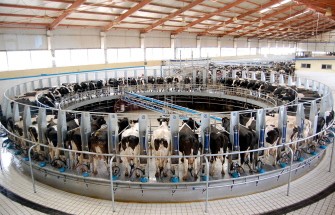 Cows are milked by machine at a milking station in a dairy farm in Hohhot, north China's Inner Mongolia on October 6, 2008. (AFP Photo)
Chinese officials are anxious to draw a line under the scandal that killed four infants and sickened more than 53,000 children after melamine, a chemical used to make plastic, was found in milk from leading dairies.
State media trumpeted on the weekend that samples from 31 brands of baby formula contained no trace of the chemical. Similarly, samples from hundreds of batches of liquid and powdered milk were also melamine-free.
In Shanghai, hip hop music blasted from a stage next to a giant inflatable cow as Guangming Bright Dairy -- one of more than 20 companies whose milk was tainted with melamine -- tried to woo back milk drinkers.
In southern Shenzhen, dairy firms Mengniu and Yili offered competing "buy one, get one free" promotions on crates of milk.
But despite the fanfare, consumers are likely to remain cautious and a number of countries around the world have banned or restricted imports of Chinese milk products.
"What you see in China with the melamine crisis right now is so widely spread that there is clearly a gap in the quality control system," said Bram Wouters, who is leading a project at Wageningen University in the Netherlands to help China improve milk quality.
"For sure that gap will be closed," he said by telephone. "But there is no guarantee consumers' confidence will return quickly."
It could take up to a year to repair the public's damaged faith, experts agreed.
In the meantime, the economic costs are mounting.
No official estimate has been released of how much the crisis cost China's dairy industry.
Companies whose products were contaminated saw sales plunge 60 to 70 percent last month from a year earlier, said Lao Bing, an analyst with Shanghai-based Mental Marketing Dairy Consulting.
Dairy sales for the full year are likely to be 20 percent lower than the 160 billion yuan (23.5 billion dollars) posted last year, said Bao, whose firm advises leading Chinese dairy brands.
"The industry had been growing at a pace of more than 20 percent over the past few years, but this year it's going to remain flat," he said.
About three million workers, mostly connected to the small dairy producers who account for 80 percent of China's milk production were affected, said Chen Lianfang, an analyst from Beijing-based Orient Agribusiness Consultant.
In parts of northern China's milk producing heartland, farmers were having to pour away milk at the peak of the crisis because no one would buy it, state media reported.
It is in these areas that experts believe the melamine may have been added to deliberately watered-down milk to make it seem richer in protein.
In the northern province of Hebei, one of the centres of the crisis, authorities have agreed to pay farmers 200 yuan for each cow as a subsidy to keep them in business.
But to restore confidence, authorities should work with these small producers to continue to improve hygiene, educate them and give them incentives to deliver quality instead of quantity, Wouters said.
"Let consumers know there is quality control exercised at all stages in the chain not only at the dairy plants and in the supermarkets but also at the producers' site because there the main problem for sure is at the farm level," said Wouters who was researching in northeastern Heilongjiang province last month before the scandal broke.
He estimated it could take anywhere from weeks to a year to establish quality control along the chain linking farmers to consumers.
"In China things can move fairly fast, it could be that quality control on this issue is exercised fairly quickly and put in place. It has a lot of attention at the moment," he said.