An explosion at a coal mine in northern China killed 40 people Thursday and trapped another 74 underground, officials said, in the latest tragedy to strike the notoriously unsafe industry.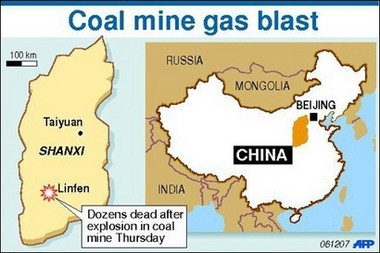 Map of China locating Linfen city in Shanxi province, where an explosion in a coal mine killed 40 people and trapped 74 miners underground Thursday
The gas blast happened just after midnight at a mine in Linfen city, a big coal mining area in Shanxi province, the State Administration of Mine Safety said on its website.

"Thirteen miners have been rescued and sent to the hospital for emergency treatment, 40 have been found dead and 74 are trapped," the statement said.

No reasons were given for why the explosion at the Ruizhiyuan mine occurred but the administration said an investigation had been launched even as rescue operations were underway.

"We must immediately organize the police force, place the mine boss and other people responsible under detention, seal the mine offices and freeze its bank accounts," the statement said.

China's coal mines are among the most dangerous in the world, with safety standards often ignored in the quest for profits and the drive to meet the nation's booming energy demands.

The central government has previously spoken out against endemic corruption in the coal mining industry, with a particular concern the collusion between local government officials and businessmen.

More than 4,700 coal miners died in China last year, according to official figures -- a fatality rate of nearly 13 a day.

Independent labor groups put the real toll at closer to 20,000 annually, saying many accidents are covered up.

The mine safety administration said the Ruizhiyuan mine had a license to produce 210,000 tons of coal a year, but no details were given as to whether that output was being exceeded, as is often the case.

One local farmer said residents were being kept from approaching the mine.

"The mine is locked down by all kinds of departments, including the police, no one can get near," said the farmer, who refused to identify himself after being contacted by AFP by phone.

Meanwhile, the official Xinhua news agency reported that at least 11 workers were missing after the entrance to an illegal iron and gold mine well collapsed in neighboring Hebei province.

The accident in Chengde city occurred on Monday, the report said, while not explaining why it was only reported on Thursday.

In the worst reported coal accident this year, 172 miners were killed in August when their mine in eastern China's Shandong province flooded after a nearby river burst its banks following heavy downpours.

Another nine people died in a nearby mine in the same circumstances.

Despite the bad weather, the accidents were largely blamed on bad management, state-media reports said at the time.

Those tragedies were the worst reported coal mining disasters in China since an explosion at a colliery in the northeastern Liaoning province in 2005 claimed 214 lives.